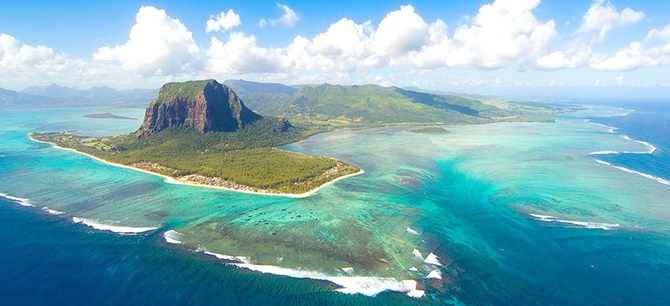 Mauritius has a tropical climate and thus is a suitable place to visit during any time of the year. Mauritius Tourism is extremely popular and one of the most loved travel destination by all tourists, be it youngsters, couples or elderly people. However the best time to explore Mauritius is during the winters (May to December) as these months are considered to be the best as the weather during this time is quite pleasant and mild. During winters the maximum temperature in Mauritius goes up to 24 degrees Celsius, while the minimum temperature is up to 18 degree Celsius.
Another reason that makes winters the perfect time to visit Mauritius is because it is best time to go for water sports and surfing here. You can explore the nearby beaches, islands and wildlife here during the winter season. During the winter season, the temperature is much cooler and thus you can enjoy a pleasant stay at your hotel room without switching on the Air Conditioner. Also, a great advantage to visit Mauritius during winters is that it rains very little during this season and thus tourists can easily explore this city without getting wet in the rains. It might rain sometimes, but only for a while during the evenings here. If you wish to explore the historic places in Mauritius winter is the perfect time to come here.
Best part about winters in Mauritius is that you can still enjoy some good amount of sunshine during the daytime and hence can achieve some tan too! Also, if you are having a limited budget, visiting Mauritius during winters is the best thing for you. This is because, during winters Mauritius is comparatively less crowded and hence the accommodation tariffs are also comparatively low. Also in the off-peak periods you can bargain more with the taxi drivers here and even at the shops. You can even book the Mauritius tour packages at a comparatively lower price. Besides getting the advantage of flexible prices, you can enjoy a very relaxed time here during the winters as the place is going to be less crowded. You also do not have to worry about extreme weather conditions during this period and there is no threat or worries of cyclone occurrences.
If you are a water sport or diving enthusiast you will love Mauritius during winters as you will find the clearest waters here during this season. Winters are the best time to visit Mauritius as you can explore places here with a calm and composed mind. This is the best time if you really want to detox your mind and body from the hustle and bustle in your daily life.
To know more about the Mauritius tour packages and prices during winters, check out SOTC Holidays.