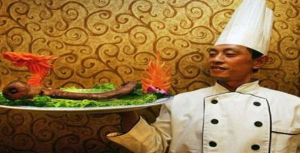 Innovations have no boundaries so does the odd ideas! To quench the thirst of the bizarre loving foodies, the food and beverage industry brings you a Pandora's Box of creepy joints which will surely titillate your senses. Restaurants with wacky themes from cannibal to robots and more read on to find out the weirdest restaurants around the world.
From a unique way of serving to a strange location or a freaky theme, this list of restaurants will surely please your quirky soul. With their off-the-wall ideas, dining has got a new definition for the new age foodies!
1.Human eaters
Nyotaimori, a popular joint in Japan, is also known as a Cannibalistic restaurant. The food here is served on an operating table in the form of an edible human body. Operate the body to dig in for the lip-smacking intestines, capillaries and other organs, floating in a pool of blood made out of tomato ketchup. No wonder it's a sheer crazy theme!
2.Coffin covet
Get yourself welcomed with fake human skeletons and skulls at Brussels' Le Cercueil. With a coffin theme, the bar will serve you drinks like bat haemoglobin, Dracula blood, devil's sperm and corpse juice. To add more weirdness, the drinks are served in human skulls!
3.Futuristic dining
Step inside Mundo Latin Gril , located at North Sydney and meet waiters with iPads instead of menu cards. Browse the pictures of the available food and place your order to get a fine dining experience. Truly this is a real dandy!
4.Get locked up!
The Alcatraz, Tokyo is for the prison lovers who are excited about the enclosed and eerie atmosphere of a lockup. The guests are offered separate cells and a freaky cocktail – lethal injection – is served before the food is served. Who is going to the jail next?
5.Dick lovers' paradise
Guolizhuang in Beijing promotes the Chinese tradition that a person is what he eats. That's uncanny, isn't it? You can choose from the list of dishes with the organs of dog, yak, donkey, seal and so on. Are you tempted?
6.Robotic dining
Hong Kong has a Robot Kitchen which has a chef robot as the main attraction. Another robot goes to each table and takes the order while a third one serves you with delicious and steaming food. That's some unusual trick to stay ahead of time. Sure, it is amusing to dine while robots perform!
7.A flying dinner date
Get your adventure dose as you dine in the Sky at Brussels. 22 people can sit together on the uniquely designed chairs and tables, which are lifted by a crane for almost 130 feet in the air. Definitely exciting but not for an acrophobic!
8.A human plate
Poke a nude female model with your chopsticks at the Sushi restaurant, located in the Sunset strip of West Hollywood. The food is served on the banana leaves placed on the body parts of the well trained model. Just don't be too erotic!
9.A shortened journey
How about eating food inside a toilet? Check out Taiwan's Marton Theme Restaurant in Kaohsiung for its strange toilet décor. Sit on the toilet seats and eat food served in bowls shaped like western loo and Asian toilets. Raise your wacky senses as you clean hands and face with toilet papers!
10.Blind date
You don't get an opportunity to see your date, but have a fine dining experience with him/her. O'Noir at Montreal gives you the pleasures of an absolutely dark dinner with blind waiters serving you. Amazing isn't it!