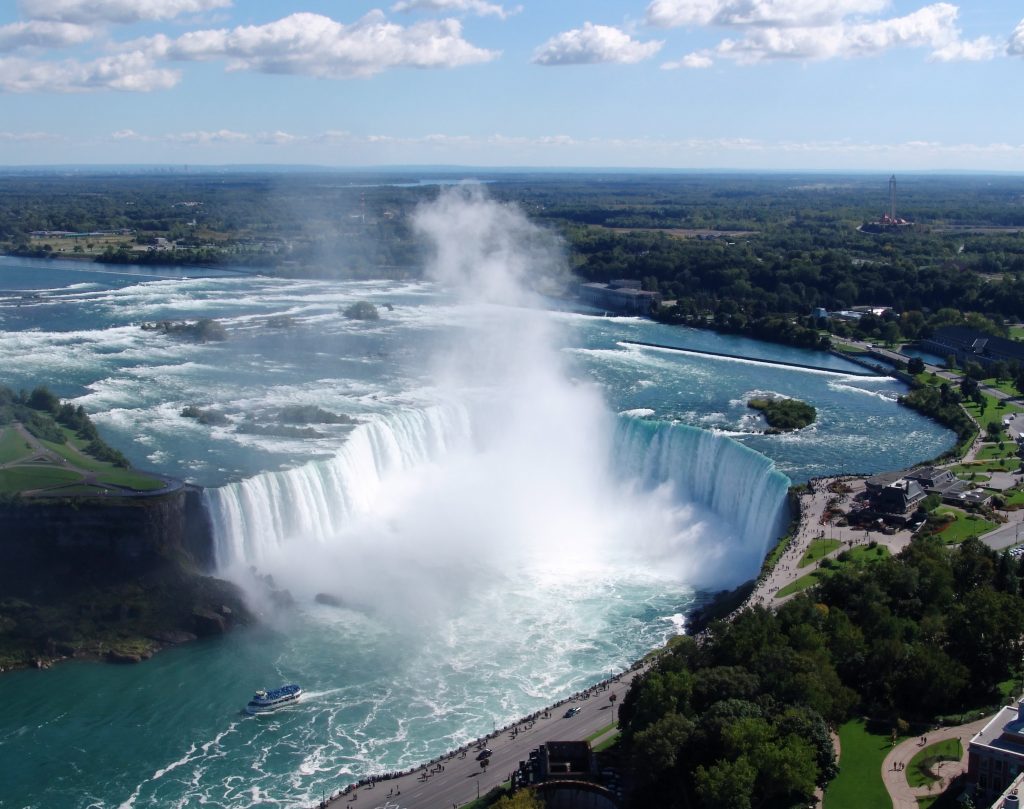 Among the best-known waterfalls in the world, Niagara Falls and the surrounding areas are the must include destinations in your USA tour package. The falls are experienced the best on the Maid of the Mist. It's a boat that takes visitors close to the base of the fall and when you see the mist engulfing you and making your joyous senses to a new high, you would feel as if you are in some heavenly abode. The authorities also provide you with a raincoat to save you from getting wet, but when nature wants to connect with you and to send her pristine signals in the form of mist, it's better you remain the way you are; it's joyous. It enters into the Horseshoe Basin from the front side of the falls, and when the crystal clear waters splash in front of you, you will be forced to think of the new definition of paradise. It's enchanting to your senses to include the boat ride in your USA tour package.
Image Source – https://upload.wikimedia.org/wikipedia/commons/9/93/Niagara_Falls_-_ON_-_Niagaraf%C3%A4lle.jpg
Image Source – https://upload.wikimedia.org/wikipedia/commons/b/b9/Cave_Of_the_Winds_Niagara.jpg
Cave of the Wind on Goat Island is the place where you see the falls closely, and when you are so close to the mighty waters, nature will make you feel her by making you wet. Tourists go to the Niagara Gorge and take a number of stairs to reach to Hurricane Deck. It is the lookout platform, and from there you see the beautiful Bridal Veil Falls showcasing nature's wonders and discharging copious amount of water below, and you remain in awe of her schemes to surprise you. It's a must include activity in your USA holiday package as you would be watching the fall from below instead of the usual from above.
Whirlpool Rapids Bridge is another destination the beauty of which would mesmerize you. When you look at the river from the bridge, you would see a big cauldron of whirlpool and the teal coloured waters are dancing in joy as if they are showcasing their skills in the particular movement. Niagara Falls State Park is also there and with about four hundred acres of bike trails and natural surroundings your senses would be on a joyous ride and will give you some of the cherished memories of your life.
Embark on your journey to explore the wonders of nature and heavens will reward you with joyous life. The areas of Niagara Falls being among nature's prime wonders are must include destinations on your USA tour, and when you take SOTC along, you will only be focusing on making a connection with nature and all the travel hassles are taken care of by your trusted companion.