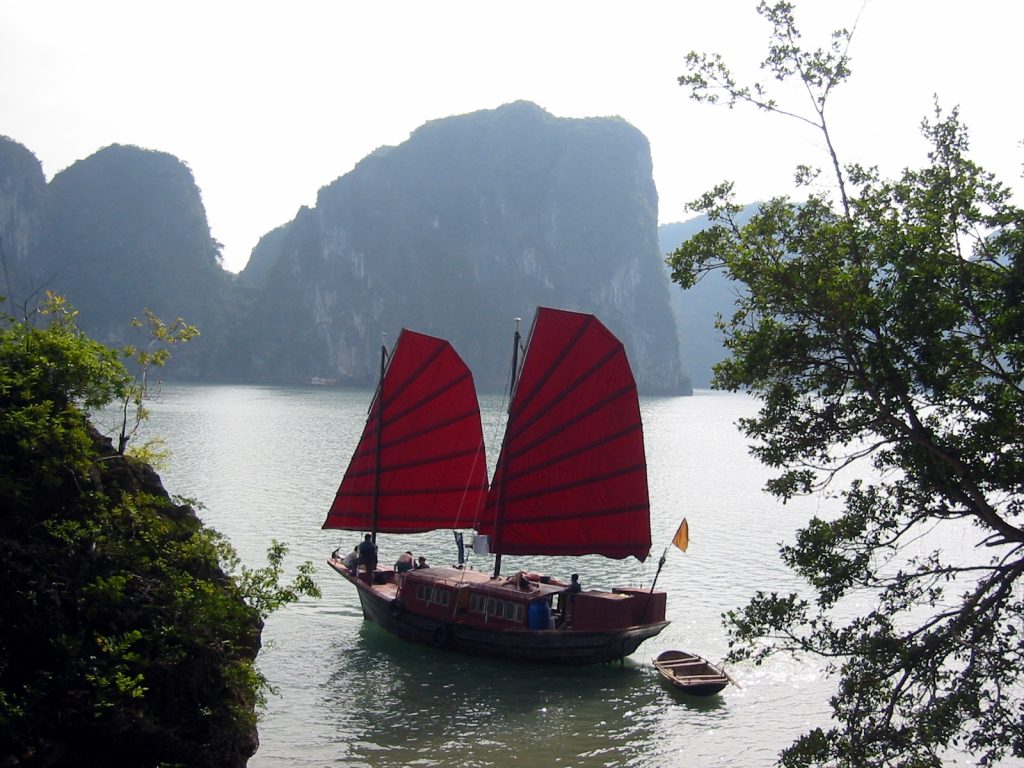 No particular place to see, no destined destination to go for, just be in Vietnam and contemplate the beauty that comes your way; you will feel yourself in another, more pristine world. The lush green paddy fields seem as if an artist has drawn the perfect scenery on his canvas. The jagged peaks look at them as if conveying a sense of pride that it's our own beauty and we will protect it from anything outside. The adventurous souls have their palette full with numerous national parks, and for those who love the hustle bustle of a city, there is plenty for them as well to explore. Those who love to explore different cultures would love to be in Vietnam as it is a country of amalgamation of different cultures.
Image Source – https://upload.wikimedia.org/wikipedia/commons/2/2d/Halong_Bay_in_Vietnam.jpg
Image Source – https://upload.wikimedia.org/wikipedia/commons/0/01/Cu_Chi_Tunnel_Entry_%281%29.jpg
It seems the benchmark for the perfect view of the sea is set against Halong Bay. The movement of wind and water over thousands of years has created the jagged beauties of the islands, and when you look at them, you would be in awe of the perfection that nature achieves with her own hard work. You must include cruising in the Halong Bay in your Vietnam holiday packages as you would get the perfect view of the bay on boats only. You can see plenty of caverns with stalactites as if they are ready to take action if someone disturbs their perfect beauty.
Image Source – https://upload.wikimedia.org/wikipedia/commons/b/bd/Phong_Nha_cave_entrance.jpg
Another destination that is known for its stalactites is Phong Nha-Ke Bang National Park. Paradise Cave is among the most popular in the park, and it goes almost thirty-one kilometres below the ground and has some of the rarest natural formations of stalactites. Adventurous souls would love to visit Tu Lan Cave also as it requires swimming through a cave system to see that. Cu Chi Tunnels, another cave formation, though of human creation, is of vital significance for those who love challenges. You even have to crawl at some places to see the tunnel.
The bucolic vista of the Sapa Countryside is something that reminds what real beauty of villages looks like. The terraced rice fields overlooking some of the highest peaks in the country would charm you, and if possible, you would extend your holiday for a few days. While planning your Vietnam tour packages, you must insist on including Sapa Countryside in the itinerary. Another place the tranquillity of which would mesmerize you is Ba Be National Park. You would love to take a tour of the park. Being in Vietnam, you can never forget a visit to the Mekong Delta. The paddy fields alongside the river with buzzing local life is something you would love to go for. There are mangrove forests and other natural reserves also in the vicinity. The other important places to visit in Vietnam include Nha Trang, Hoi An, My Son, Hue, Hanoi and Ho Chi Minh City.
A tour to Vietnam would bring out the real human being you are as all the sophisticated layers would crumble. You would find a pristine you in your mind, and the trip is worth taking to find your real self. As for the hassle free journey to the country, SOTC is there for you.