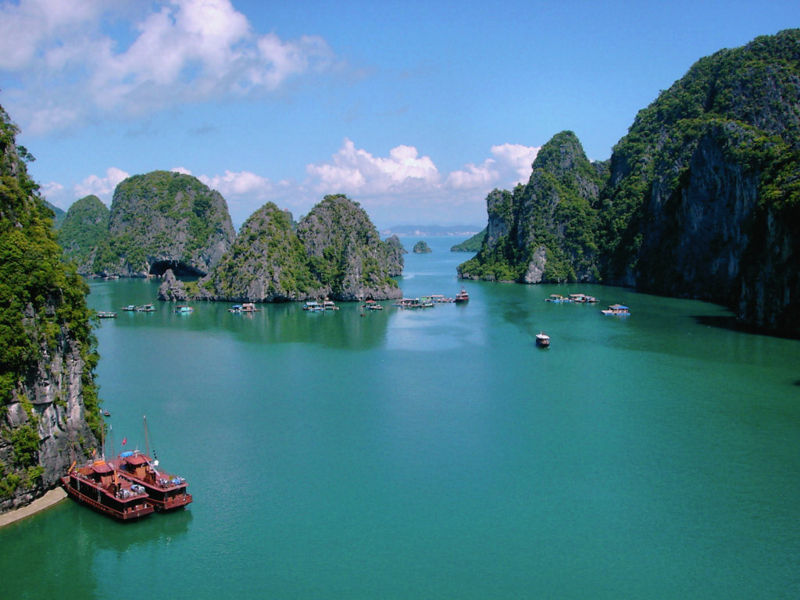 A country with more than forty percent under tropical forest cover is a paradise for nature lovers. Vietnam also has its ancient cultural roots intact amidst all the modernity and that paves the way for a way of life steeped in tradition. One side of the country would mesmerize you with its bucolic charm of rice fields while the other side has the perfect representative of biodiversity in the form of Mekong Delta. Indigenous culture of Vietnam can also be felt in the numerous temples the country has and belief in the temples is still ingrained in the culture.
Image Source – https://upload.wikimedia.org/wikipedia/commons/2/2d/Halong_Bay_in_Vietnam.jpg
Image Source – https://upload.wikimedia.org/wikipedia/commons/0/0b/B%C3%A3i_bi%E1%BB%83n_Nha_Trang.jpg
Nha Trang, the scuba diving hub of Vietnam, is a charming place with its pellucid ocean waters and beautiful beaches. You can enjoy all the modern facilities in the vicinity while being close to the ocean and temperature, too, is quite mild at the place. Your Vietnam holiday packages must include Nha Trang in it. Cu Chi tunnels are also something tourists are attracted to as they get a new kind of experience of crawling in the tunnel. Mui Ne, the kite and wind surfing destination of Vietnam has many other attractive features to pull tourists towards itself. The vast expanse of sand dunes provides such panoramic view that you would remain in awe of the beauty of Vietnam. Phu Quoc, the largest island of Vietnam, has such tropical forests adorning it that you would feel thankful towards the creator. Its beaches are unspoiled and coral reefs are in their pristine form.
Image Source – https://upload.wikimedia.org/wikipedia/commons/1/12/Mekong_Delta_Vietnam%281%29.jpg
The Mekong Delta is one of the wonders of nature and as you can see rice fields all across and local people in their straw conical hats roaming the river. Most of the villages in the area are accessible through rivers only and inadvertently Venice would come to your mind while being there. The people at Sa Pa grow paddy and other vegetables in a terrace like cultivation when you see them you tend to think of ingenuity of human beings and how humanity finds solutions when it comes across different challenges. The place that really called 'Venice of Vietnam' is Hoi An. It has canals taking you to different parts of the city that are full of old style shops and you would feel as if you have come to a different era. The capital Hanoi also boasts of the beautiful Hoan Kiem Lake. The lake with its stunning views serves as the leisure spot for the locals.
The idyllic surroundings of Vietnam would take you into another era where simplicity was the order of the day. Just break all the barriers of your everyday existence and take yourself to a new journey. Your journey would be a smooth one with SOTC.