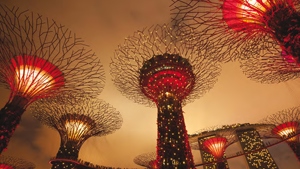 Everyone has their own idea of an ideal honeymoon. Some like it adventurous, some like a lot of sight-seeing, some prefer to just lay back and relax while some others want a little bit of everything completely customized right down to the music. Singapore is one of those few exotic destinations that accommodate every kind of honeymooner with Singapore packagesavailable across a wide range of budget.
1.Adventure
Combine adventure with a romantic touch by dining with a four-course meal on Singapore's cable car that goes to and fro between Sentosa and Mount Faber for about 90 minutes. The Singapore Ferris Wheel which like the London eye, is another romantic turn to take especially in the evening to enjoy a beautiful view of the city. If you're the beach-folk at heart, indulge in the numerous water sports offered by various islands in and around Singapore. Take the heart-racing rides at the famous Universal Studios and catch the romantic evening fireworks there.
2.Sights to See
Singapore tours whether honeymoon or not are incomplete without a visit to the iconic Merlion, the psychedelic giants of Gardens by the Bay, the Singapore Zoo or the special Night Safari there, the Esplanade for free concerts and performances or its gorgeous roof garden, and Marina Bay water and lights show. Singapore offers several gardens, markets, long walk sites, temples and thematic restaurants to dine out at, no matter which area you're looking to explore.
3.Relaxing things to do
Take a stroll in the famous Botanic Gardens, enjoy a picnic with a free show by the Singapore Symphony Orchestra, or walk along the 2.5km long Changi Boardwalk. Singapore has a great deal of museums too along with places like Woodlands Waterfront Park, Punggol Waterway Park, Yishun Dam, etc for long romantic strolls. One can customize Singapore honeymoon packages to include shopping and couples spa treatments offered by luxurious resorts and hotels.
4.Making Memories
A great idea is to book a photographer in advance and outline locations, costumes and poses to capture you and your better half in the gorgeous locations across Singapore. Bukit Batok Town Park is one such landscaped location with the lake Xiao Guilin. Take a cruise down the Singapore River or romance on the beaches of Sentosa. For those who want to simply lie back and relax on idyllic beaches, a number of brilliant secluded options like Pulau Sugi, Tioman, Bawah, etc. are available just off the Singapore's coast, easily accessible by boat transfers.
So list out your activities and let your Singapore honeymoon the best experience to kickoff a new life.