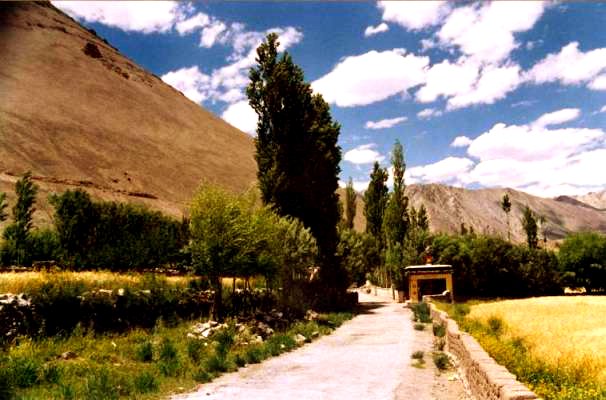 You really have a joyous tour when you don't look for a particular tourist attraction of the place but let your senses soak in the offerings from nature. At Uleytokpo you will have that experience. Just look around and you would see serenity pervading everywhere. Nature tells you to be close to her, express your love to her. You will find her caressing you and you will feel like a little child scampering in her playfield. Uleytokpo is considered as base camp also to acclimatize with the climate of Ladakh as if a mother is preparing her kid to get ready to face the real life. The more time you spend at Uleytokpo, the more you feel yourself close to nature.
Image Source – https://upload.wikimedia.org/wikipedia/commons/6/65/Karakoram-West_Tibetan_Plateau_alpine_steppe.jpg
A look at the landscape at Uleytokpo would make you think that you are on some other, more pristine planet. The human creations also in the area complement the gifts of nature with their own ingenuity. Yungdrung monastery built in the eleventh century is one of the masterpieces of architecture of the era and you must make sure that the place be a part of your Uleytokpo holiday packages. When you look at the intricate wood carvings at the monastery, you would be in awe of the craftsmanship that has been done there. The statue of the Buddha is also there a look of which would bring serenity in your heart.
Image Source – https://upload.wikimedia.org/wikipedia/commons/8/8a/Yungdrung_Monastary_%28Lamayuru_Monastery%29.jpg
Uleytokpo is also known for various festivals it organizes. Holi is one of the most prominent festivals at the place and the excitement among the native people about the festival is visible to everyone. Basant Panchmi or small Holi is also quite prominent at Uleytokpo and celebrated with much fervour. Diwali is the one festival when the excitement of the people is uncontrollable. You would love to be at the place during the festival when goddess Lakshmi is worshipped with such fanfare.
Spending time in the vicinity of nature brings you close to the real human being you are. A visit to Uleytokpo would bring out your natural self and all the walls of so called sophistication would shatter; your rejuvenated self would standing there viewing the glories of nature. We at SOTC make sure that our Uleytokpo tour packages become your best experience for life and remain joyous even after the tour ends. Just move out of your cubicle and enjoy nature.