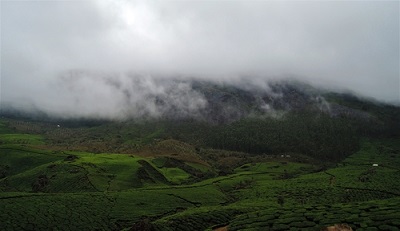 Undoubtedly, monsoon is magical in India! They offer you an experience of a lifetime. While you visit the exotic locations, the sheer beauty will leave you spellbound. Lush greens carpet the mountains and hills; you have cascading waterfalls that add to the beauty. All this only invites you to explore the exotic locations India has to offer. If you think where you should go to witness and experience the best of monsoon, then let us help you plan:
Kodaikanal – Tamil Nadu

Popularly known as the 'Princess of Hill Stations,' Kodaikanal will leave you awestruck in the rains. Being one of the most visited monsoon destinations, it is loved among the locals and tourists. It is home to mesmerizing waterfalls, lush green landscapes and not to forge the enchanting views of the hills and ghats.
Lonavala – Maharashtra

Lonavala and rains go hand in hand. This is the most considered destination among the nature lovers during monsoon. The Sahyadri mountain ranges come alive with its alluring lush greenery, cascading waterfalls and cool climate. It is your go-to destination for a quick escape from the hustle and bustle of the city. It is perfect for trekking, camping, and sightseeing.
Coorg – Karnataka

Another top monsoon destination that should be on your list of must-visit monsoon destinations is Coorg. Popularly known for its dense forest cover, Coorg will not upset you. It is home to a wide variety of flora and fauna. This beautiful destination is everything you can hope for, from beautiful lakes, enchanting waterfalls to vast coffee plantations, Coorg has got it all. It is perfect for bird watching, trekking, horse ride, and so on.
Munnar – Kerala

If you are someone who is looking for a holiday destination in South India this monsoon this monsoon, then Munnar it is for you! This paradise will leave you spellbound with its lush green carpet, vast tea plantations, romantic atmosphere, and cool and pleasant climate. You can visit Munnar to indulge in trekking, sightseeing, plantation tours, and birdwatching.
Spiti Valley – Himachal Pradesh

Popularly known as 'Little Tibet,' Spiti Valley should be on your list of must-visit monsoon spots. Still untouched by man, this place has retained its natural beauty. You are bound to fall in love with this place. It is a perfect spot for adventure seekers and nature lovers.
Pondicherry

You still get to witness the old-colonial houses, the yellow tinted villas and cobbled streets here in Pondicherry. This place has attracted tourists from all over for its perfect postcard beauty. Adding a dash of romance are the wet months here. It is a perfect spot to indulge in scuba diving, meditation, and so on.
Alibaug – Maharashtra

Situated in Maharashtra, Alibaug is one of the most visited monsoon destinations. This beautiful town is located in the Konkan region of Maharashtra. Famous for its rich history, delicious seafood and rich culture, Alibaug will not disappoint you. Indulge in horse ride and jet skiing here.
Mahabaleshwar – Maharashtra

Witness the beauty of nature come alive in Mahabaleshwar. Apart from being known for its delicious strawberries, Mahabaleshwar is also home to majestic peaks, beautiful rivers and so on. The lush green forests, hills, and valleys all make Mahabaleshwar a must-visit monsoon destination.
So know more about these Places to visit in India during monsoon to experience the true magic of rains and these monsoon destinations.