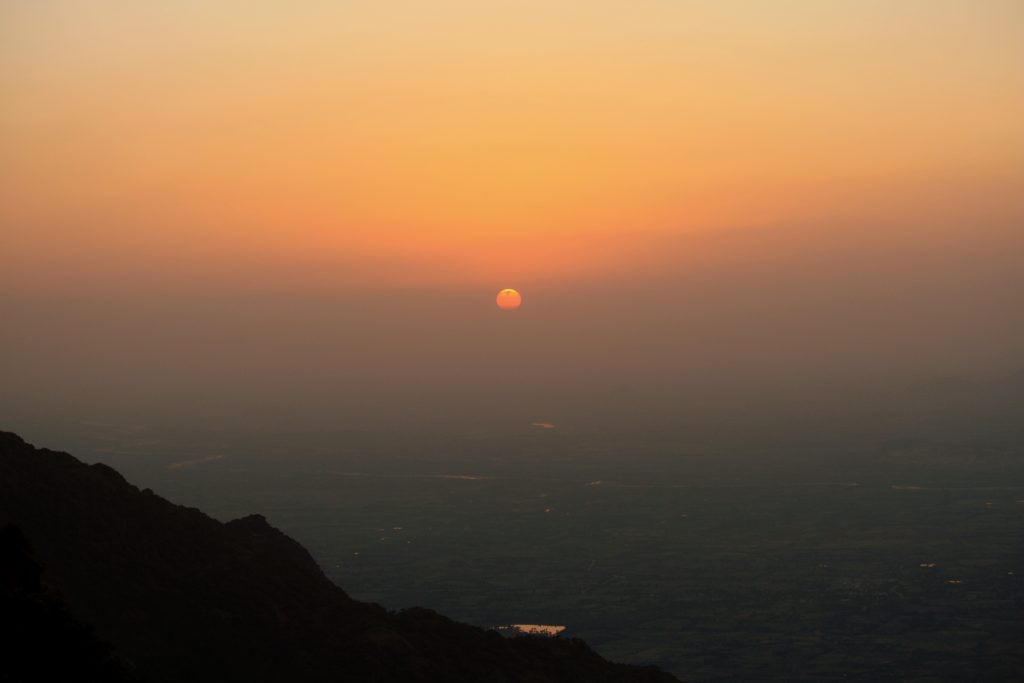 Located near Sirohi district amongst the Aravali mountain range, creating a beautiful paradox of setting, Mount Abu is the only hill station is the desert state of Rajasthan. Its elevation is about 1,220m above sea level and can be visited all year round due to its pleasant weather. Here are the top 10 things to do in Mount Abu –
Image Source – https://upload.wikimedia.org/wikipedia/commons/thumb/6/6b/Mount_Abu.jpg/1200px-Mount_Abu.jpg
1. Dilwara Jain Temples
Image Source – https://upload.wikimedia.org/wikipedia/commons/5/5d/Dilwara_Temple_-_Luna_Vasahi.jpg
Built completely with marble between 11th and 13th centuries, the Dilwara Jain temples consist of five temples namely Vimal Vasahi, Luna Vasahi, Pithalhar, Parshvanath and Mahavir Swami. The ornate structure, architecture and carvings make it one of the top places to see here.
2. Nakki Lake
Image Source – https://upload.wikimedia.org/wikipedia/commons/4/40/Nakki_lake_%2C_Mount_Abu%2C_Rajasthan.jpg
Many interesting and entertaining mythological tales surround the formation of this sacred lake. It also has a historical significance as Mahatma Gandhi's ashes were immersed here which further lead to building of the monument Gandhi Ghat. This lake is ideal for family picnics and boating at a modest fee.
3. Guru Shikhar
Image Source – https://upload.wikimedia.org/wikipedia/commons/a/af/Guru_Shikhar.jpg
The highest point of Mount Abu as well as the Aravali, Guru Shikhar peaks at 1,722m providing a bird's eye view of the whole region. The Dattatreya temple here is a unique temple housing the trinity Brahma, Vishnu and Shiva. Ideal for hiking and trekking, this location is to be visited for its sheer breath-taking view.
4. Mount Abu Wild Life Sanctuary
Catch a sight of the leopard or some of the 250 bird species or rare species of animals like sambhar, wolf, hyena, common langur, Indian fox, Indian hare, wild boar, bear, pangolin, jackal, porcupine and hedgehog at this wildlife sanctuary. Rajasthan tour packages can even arrange for a jeep safari in this 7km stretch.
5. Trevor's Tank
Named after the British scientist who built it, Trevor's Tank is known for its crocodiles swimming and lazing around. Also spot pigeons, partridges and peacocks amongst other birds during your picnic at this spot.
6. Achalgarh Fort
This fort is now largely in ruins except for its imposing main entrance that reflects on the historic rule of the Paramara Dynasty and then the Mewar Kingdom. It makes for a good hike and houses many Jain temples.
7. Achaleshwar Mahadev Temple
This temple was built around a naturally formed Shivaling and is said to have the real footprint of Lord Shiva. There's also the Nandi bull made completely of brass and it's situated near the Achalgarh fort.
8. Brahma Kumaris Spiritual University
A beautiful recreation centre set against the backdrop of dense forests between the famous points of Guru Shikhar and Achalgarh Fort, this centre invites all to spread awareness and ideas about universality, spirtuality through Rajyoga contemplation, yoga and meditation.
9. Mount Abu Bazaar
No Rajasthan tourism experience is complete without shopping! Check out the Khadi Bhandar, Kashmiri Emporium, Picadilly Plaza and Government Handicrafts Emporium for some unique souvenirs.
10. Toad Rock
Image Source – https://upload.wikimedia.org/wikipedia/commons/4/47/Toad_rock_%28Mount_Abu%29.jpg
Shaped like a toad, this spot is popular for hiking, trekking and other guided adventure activities like rapelling and rock-climbing.