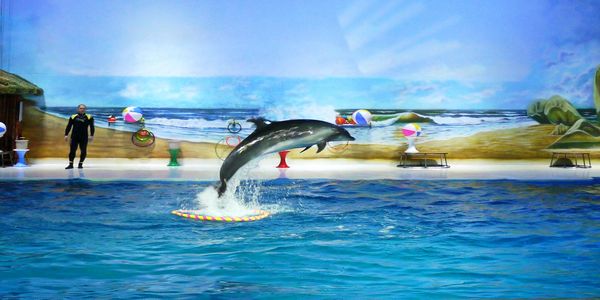 Located at the Creekside Park at Bur Dubai, Dolphinarium gets more than 30,000 visitors per month and is an extremely famous destination in Dubai Tourism. It is a fully air-conditioned dolphinarium that was established for entertaining tourists and visitors and at the same time educating them about dolphins, seals and other marine organisms. Spread across 5,000-square-meters, the dolphinarium is home to 6 famous bottlenose dolphins, a hale and hearty population of fur seals and over 20 species of exotic parrots. It allows you to be in a comfortable environment and is a complete family experience. If you are listing down the top things to do in Dubai during your trip, a visit to Dolphinarium is a must.
Let us take a look at the top 10 things you need to do on your visit to the Dubai Dolphinarium:
1.The Dolphin and Seal Show
It is an interactive experience that showcases the massive talent & the physical and mental strength that these animals possess. From diving to dancing, juggling and playing with the ball the dolphin and seal show will surely win your hearts. The evening shows also include a magical show prior to the actual dolphin and seal show.
2.Creek Park Exotic Bird Show
The Creek park is home to over 20 species of parrots and birds and is the only bird show in Dubai, thus a must see. This pleasurable experience will amaze you as the birds fly over your head and perform tricks. Some of the bird species at the Dolphinarium include Green Winged Macaws, Eclectus Parrots and Sulphur Crested Cockatoos.
3.Swimming with the dolphins
Yes! You can actually interact and swim with the dolphins here. It is an incredible experience and a once in a lifetime opportunity to swim with these lovable animals. All of this is done under complete supervision of expert trainers.
4.Become a trainer for three hours
If you love these incredible animals, this is the perfect opportunity for you. You can get to spend your time with a dolphin trainer and help training the dolphins. Besides this, you also get a chance to learn more about their diets, eating habits and daily routine.
5.Click a selfie with the dolphins
Did we mention you can actually click a selfie with the adorable bottlenose dolphins? These friendly mammals will actually pose with you for a selfie and click pictures alongside.
6.Enjoy the Mirror Maze
Mirror Maze is one of the most challenging puzzles in Dubai that will surely give you a fun experience. You need to go through a confusing labyrinth of mirror glasses and find your way out making use of their sense of touch.
7.The 5D/7D Cinematic Experience
This unique cinematic experience combines the visual effect of 3D cinemas that not only lets you see the movie but also lets you feel it and become a part of it as you step in and shoot targets.
8.Enjoy a Good Meal
Besides the astonishing dolphin and seal show, Dolphinarium also serves scrumptious meals and delectable cuisines that are suitable for both adults and kids.
9.Comfortable Facilities
At the Dubai Dolphinarium, you get to visit the marine themed class rooms, gym for children, a multimedia library and restrooms. All of these are designed for the maximum comfort of visitors.
10.Gift Shop
And to carry all these lovely moments back home, there is a beautiful shop that lets you buy toys and souvenirs for your loved ones.
All of these things make the Dubai Dolphinarium a perfect place to visit. Do not forget to include a visit to Dolphinarium while booking the Dubai packages.