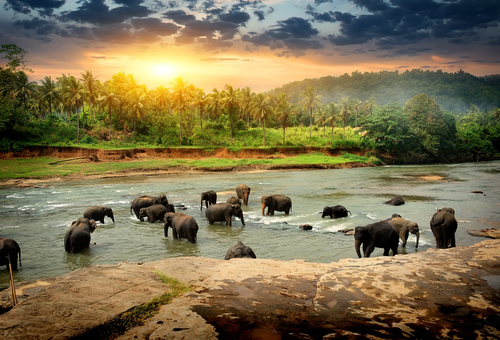 Home to mesmerizing mountains, romantic landscapes, sandy beaches, and lush green tea gardens, I am Sri Lanka for you. This beautiful country is magnificent in every way you can think of. From natural spots, cultural and historical destinations to picture-perfect views, Sri Lanka has got everything you can ask for.
If you are planning a trip to Sri Lanka, here are some of the spectacular spots you ought to have it on your check list:
Ella
If nature is your thing, then Ella should be your next stop in Sri Lanka. You will instantly fall in love with the stunning views through Ella Gap that wonderfully overlooks a gap in the southern mountain wall. Ella is beautifully situated in the middle of the countryside with vast tea plantations, vegetable plot, and lush green forests. There is also the famous and mesmerizing Ravana Falls. You will be marveled with the beauty of the wide Ravana falls that flows down at the height of 82 feet. Not many know, but this waterfall is the home of many secrets and legends.
Pinnawala Elephant Orphanage
Your trip to Sri Lanka is not complete unless you have visited the famous Pinnawala Elephant Orphanage. You are bound to be enamored with the baby elephants as they enjoy their bath in the river. You will not want to leave this place! It is a different kind of experience altogether. It is a paradise in itself where you get to watch the baby elephants playing and moving around.
Nuwara Eliya
Retaining its colonial ambience is Nuwara Eliya. It is home to mock-Tudor buildings, golf course, and gentleman's club. Indeed, Nuwara Eliya is one of the most fetching places in Sri Lanka. The scenic rail ride is something you should not miss. The rail ride takes you on an experience that lets you enjoy the picturesque tea plantations, dramatic mountains, and cascading waterfalls.
Dambulla Cave Temple
When you are in Sri Lanka, do take a trip to the 5. Dambulla Cave Temple. It is home to beautiful murals and statues. This beautifully preserved cave is home to more than 150 Buddha statues.
Adams Peak
The next destination or stop for your Sri Lanka trip is Adams Peak. How about you climb the slopes at night to enjoy and experience the breath-taking sunrise at dawn. A UNESCO World Heritage Sites and biodiversity spot, Adams Peak is on the top of every traveler's list.
Sigiriya Rock Fortress
If you love history, then a visit to the famous Sigiriya Rock Fortress is a must! You will be marveled with the ancient ruins, water gardens and beautiful frescoes here. This place will give you innumerable reasons to fall in love with. Climbing the top of the fortress gives you a 360-degree view of the surrounding areas.
Trincomalee and Mirissa
Also known as Trinco, Trincomalee is a beautiful town located on the east coast of Sri Lanka. It is one of the best beaches of Sri Lanka and should be on your bucket list of the must-visit spot. Surrounded by hilltops, wildlife, and rock formations, Trincomalee is a perfect spot to indulge in adventurous activities. It is famous for whale watching and is also the best things to do in Mirissa. The whale season here in Trincomalee is there from March until August.
Arugam Bay
Explore the sandy heaven right here in Arugam Bay. It is a hidden gem that is beautifully situated on the east coast of Sri Lanka. Popularly known as the surfer's paradise, Arugam Bay is your spot to indulge in water activities. No matter whether you are a beginner or an expert surfer, you can indulge in this activity. There are trainers readily available for beginners. Apart from this, you can even go on a lagoon safari that lets you explore the lesser known lagoons like Urani and Kottukal.
There is much more to Sri Lanka than this. Book your Sri Lanka trip with us, and we will make sure you experience this country like never before. I am Sri Lanka #ExperienceME, go through our Sri Lanka packages and let us help you plan your trip to this mystical land.