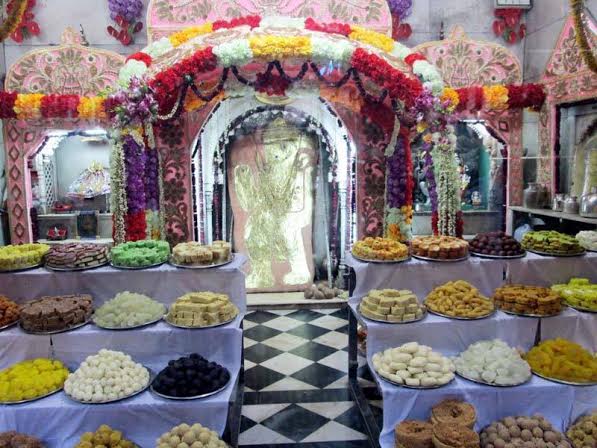 The idea of human courage is challenged from time to time; one such time to when you fight hallucinations after watching a horror movie. Those who watch Hollywood movies know the effect of watching 'The Conjuring', late at night, all alone. And then, walk around the house in dim-lit conditions. It is easy to hallucinate and imagine Bathsheba's presence in the household! But all those countless horror movies, which dramatize exorcism, fade in comparison to what one gets to witness in the Shri Mehandipur Balaji Temple. In this fabled temple, the visitor, he chooses to enter, gets to witness live exorcism. A visit to this temple is not for the faint-hearted.
Image Source – https://content3.jdmagicbox.com/comp/dausa/x4/9999p1427.1427.121123141129.h3x4/catalogue/shri-balaji-maharaj-ghata-mehandipur-trust-dausa-ho-dausa-temples-aeqi7o.jpg
The Temple
The temple of Shri Mehandipur Balaji is located in Dausa. One should not confuse the name Balaji with Shri Vishnu. The temple is built in the name of Hanuman Ji. Legend says that long ago the image of Balaji and Pret Raja or King of Spirits appeared here from the Aravalli Hills. Since then, people suffering from evil spirits, black magic or evil spells have been visiting the temple to find salvation. The process is plain and simple: appeal to the Pret Raj Sarkar and Shri Bhairav Ji, who presides over the court and awards punishments to the evil spirits who trouble the devotees in this earthly realm.
Image Source – https://upload.wikimedia.org/wikipedia/commons/c/cb/Mehandipur_Balaji_todabhim.jpg
If you want to witness the exorcism, then visit the court of Pret Raja, Pooja Griha, Bhairav Ji temple and Ram Durbar. Among the many activities, apart from exorcism are ritualistic performances, charity, chanting, and prayers. This temple is considered as the most powerful temple in the state. Each devotee is known as a Sankatwala. This is how the local people refer to the 'possessed' persons who wait all day long to get a glimpse of the deity. There are few, for whom the Pret Raja is the last resort to rid their lives of black magic and spells. Some of the people are seen reading holy texts and follow a strictly vegetarian diet. There are those who inflict physical pain onto themselves like keeping stones on their bodies; or in some cases, the possessed people, who are bound to bigger rocks, are caned by the temple priest. In few cases, you will find people in some sort of a trance, induced by the smoke from the Patasa leaves.
The temple assumes particular importance in times of festivals such as Holi and Diwali when the time to seek redemption is considered auspicious. The history and mythology associated with this powerful temple may not appear rational; but, the psychological impact of this deity has cured many people of their ailments. You must include this place in your Rajasthan tour package.
Precautions
Call it bizarre or interesting, visiting the Mehandipur Balaji temple deems that you take care of the following precautions:
Do not consume food or 'prasad' inside the village
Do not talk to the sankatwalas
Do not carry anything from the village back home
Do not turn back when you leave the temple