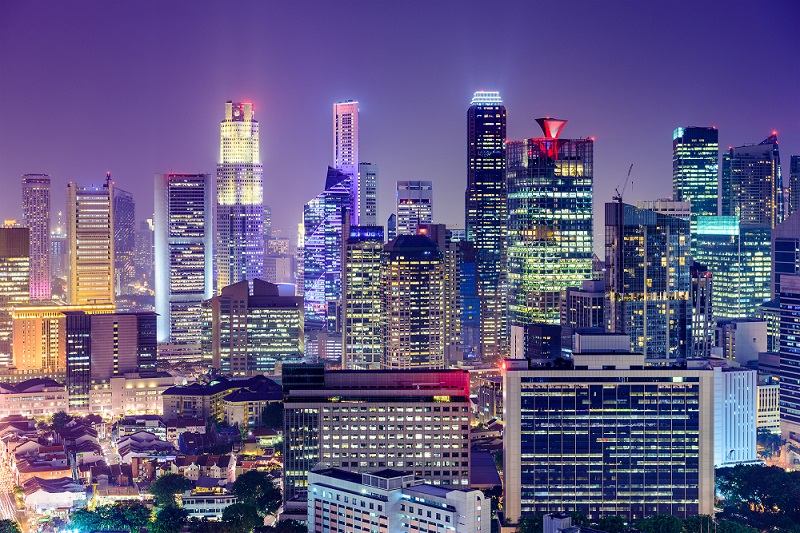 In the 1970s, architects experimented with European urban planning solutions for higher density living in SIngapore. The Marina Bay Sands was designed by Moshe Safdie as 3 monoliths complete with a stranded ship on top. Nothing in Singapore so far feels quite as "Big" as Marina Bay Sands. It is part Vegas and part Dubai. The Colonnade, a conceptually modular structure with complex floor plates that yield unique double volume spaces internally was designed by Paul Rudolph and completed in 1987. It can be crossed referenced to the metabolist movement in Japan of the 1960s but Paul Rudolph had his own way of interpreting it.
The 1-Altitude Gallery & Bar on level 63 stands at a peak of 282 metres and offers a spectacular 360-degree view of Singapore. Located on top of 1-Altitude, a multi-concept lifestyle destination in Singapore that stretches across the 61st to 63rd floor of One Raffles Place, 1-Altitude Gallery brings you an unforgettable experience. It is the work of acclaimed designer, Ed Poole, Other than the wide aerial view, experience musical euphoria with both 1-Altitude's resident live bands and DJs. Notably the world's highest al-fresco bar, it presents a world class nightlife destination with an expansive cocktail menu for Singapore's a-list parties and happenings.
CDL's Tree House in Singapore just set a new Guinness World Record with the world's largest vertical garden. The building's green wall measures 24,638.59 square feet and is expected to save more than $500,000 in energy and water costs annually. It is located in a quiet corner of Singapore's District 23.
Pearl Bank Apartments is another one of Singapore's architectural landmarks. The Pearl Bank Apartments together with the Peoples' Park complex just down the road, was another an early study in high rise, high-density living. It was finished in 1976 and rising 113 metres, it was the tallest and densest residential building in Singapore at the time. The key design move is the horseshoe plan of the tower that opens towards the afternoon sun, significantly reducing the facade area exposed to direct sunlight. It is perched on top of Pearl's Hill and looks pretty cool when it is lit up at night.
Click here to book a Singapore package today!