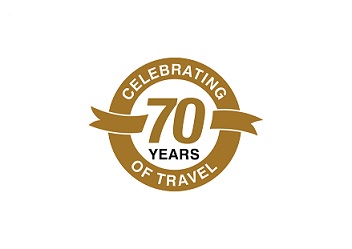 The year 2019 marks the 70th anniversary of SOTC Travel Limited. Established in the year 1949, SOTC has catered to the travel needs of numerous travelers across the globe. SOTC's first office was opened in Mumbai with just 5 employees. Today it has grown to a network of over 160 touch points in India and NRI markets. Over the years, the company has attained leadership position in various travel segments-Escorted Group Holiday Packages, Customized Holidays, Domestic Holidays, International Holidays, Incentive Travel, Business Travel and Foreign Exchange.
For seven decades and many more to come, SOTC Travel Limited has opened the world to travellers and made travel an essential part of their lives..
SOTC Travel Limited  has journeyed through the past seven decades, bringing new and customized tour packages for travel enthusiasts. Helping people create memories, and bring joy to its customers. By offering varied tours for every traveling segment, SOTC has surely defined the art of traveling for various travelers, and has become synonymous for memorable travel experiences.
70 years in the holiday business represents a very important milestone in the history of the travel industry in India. The company aims to further strengthen its business with an array of innovations and launches across multiple travel categories. The plans include new product formats and extension of premium offerings.
Things you did not know about SOTC Travel Limited
• In Switzerland, the town of Engelberg was renamed SOTC Indian Village in 1999.
• Is the only Indian tour operator to be awarded the prestigious Friends of Thailand Award in 2000.
• In 2003, a customer travelling with an SOTC Bhraman Mandal tour to Europe came back to India and wrote a book titled 'Parikrama of Western Europe'. The book is an account of his journey – from the decision-making stage to homecoming – and talks of his experience as an SOTC customer.
• Pioneers in introducing the Holiday Now Pay Later facility
• Pioneered in designing and marketing of escorted tours to cosmopolitan travellers in India.
• Introduced the concept of Box Holidays.
• SOTC was the first travel group to create a tour around the Seven New Wonders of the World.
• Pioneers in creating the concept of a Holiday Bazaar.
• Cost Saver Tours were first introduced by SOTC.
• Pioneer in Indian travel space to enter the integrated spiritual + leisure segment with the introduction of Spiritual Tours named Darshans.
• Launched easy financing options for customers such as Holidays on EMI, Holiday Investment Plan, tie-ups with banks for cash back options
• Pioneers in introducing regional tours 'Darshanam' for the South India Market.
• Pioneers to introduce SOTC The Enchanted Journey with YRF films that gave the travellers a real-life experience of the magnificent spectacle they had seen unfurl only on the screen.
SOTC in Years
1949 – SOTC was established
1976 – First group to the US was organised
1992 – Entered the NRI market
2002 – Introduced a range of customized holidays and Brahman Mandal Holidays for Maharashtrian segments
2007 – Re-launched Business travel under the name HRG Sita India
2017 – Entered the travel e-commerce space with the new sotc.in portal
Why SOTC?
• Has years of global experience in the tourism industry
• Created new markets with value driven innovative tour packages
• Specializes in MICE tours – Meetings, Incentives, Conferences, and Events
SOTC is committed to building upon the legacy they have created in the last 70 years.
They promise to constantly evolve and adapt to the changing needs and expectations of customers and thereby help to create and deliver magical moments through seamless travel solutions.