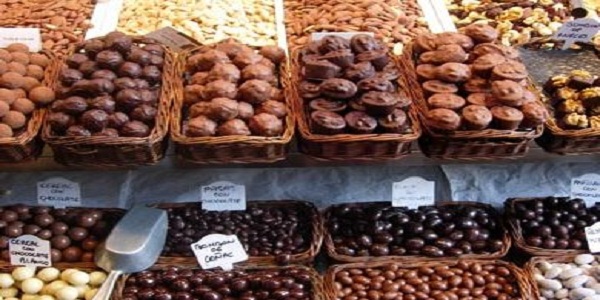 Vacations are usually a time to sit back and relax. How about going a step further and adding a sinful touch to it? Ever thought of sampling on some of the finest chocolates from around the world? From Recchiuti Confections in San Francisco to Pierre Marcolini in Brussles, we bring you the top 8 sinuous destinations that are sure to spoil you for choice.
CHOCOLATES! Remember as kids how we would sneak into the kitchen to grab one? Whether you are a child or an adult, chocolates seem to be everyone's favourite. Chocolate making is an art in itself and some of the shops around the world are the best example. Let's take a look.
1.Recchuiti Confections, San Francisco – A treat at the bay
Recchuiti Confections is known as one of the best chocolate shops on the West Coast of United States. The chocolates here are the creative depiction of owner Michael Recchuiti talent as well as of those of others. Each place has a peculiar trait that sets it apart. Recchuiti offers one of their spectacular chocolates where thin slices of fruit are soaked in lime juice. Once dried these slices are dipped in dark chocolate. Mouth-watering treat, don't you think?
2.Jean-Paul Hevin, Paris – A French touch
If you can spare a few bucks, take a trip to Jean-Paul Hevin which is located in one of the most upscale sections of the Paris shopping district. There is a whole new world waiting to be explored. Bite into some of the best Tarts, pastries, fruit ganache, and chocolate lollipops to name a few. If that's not all, you can even munch of some goodies in their wonderful tearoom.
3.Pierre Marcolini, Brussels – Chocolates at their best!
Place du Grand Sablon in Brussels is more like a high-end departmental store than a simple chocolate shop. The people here take the art of chocolate making very seriously and you could personally vouch for it once you bite into these sinful treats. Remember not to step out of Pierre Marcolini's shop without sampling his divine chocolate ice cream and picking up few chocolate bars on your way out.
4.Sprungli, Zurich – Swiss touch for the chocolate lovers
Swiss Alps and Swiss chocolates have been famous for as long as one can remember. Sprungli has been a choco-lover's favourite for more than 150 years now. The truffles made by them are packed in beautiful wooden cases. Before you leave you can enjoy a scrumptious meal at the restaurant located on the second floor. You can end your visit with a yummy chocolate dessert. What say?
5.Chocolaterie du Rhone, Geneva – Array of sinful treats
Chocolaterie du Rhone is also one of the oldest favourite as well. They have been making magic through their chocolate for around 125 years now. They have a huge array of chocolates that includes 50 different types of chocolate and more than 12 different truffle flavours on each day. A must try here is the Mocca glace which is a tiny piece of chocolate that you would definitely make you crave for more. One would wonder what the secret recipe is.
6.Cacao Sampaka, Barcelona – Taste the Spanish chocolate
Hot chocolate is quite popular in Barcelona. The best among them all is Cacao Sampaka, as here you would find the delicious, smooth and creamy chocolate with a modern twist. Unlike the typical flavours that are found in a chocolate bar, these flavour have a wonderful blend of some unique spices making them somewhat exquisite. Chocolates France and Switzerland have been known for producing some of the best chocolates but the ones in Spain are simply amazing.
7.Le Chocolat de h, Japan – With love, from south east Asia
Since the past, chocolate making is an art that has been undertaken by the westerners, not any more though. Japan has picked up to this craze too. Master chocolatier Hironobu Tsujiguchi has added a special touch to the chocolates by adding sea salt in his mixture. You could try one of the treats here along with a cup of green tea. We agree it's an unusual combination but a pleasant one nonetheless.
8.Jacques Torres chocolate haven, New York – It's an American treat!
As kids I'm sure all of us have fantasized about visiting a chocolate world, where everything is just dripping with this amazing brown liquid. Colourful chocolate candies and so on…Well, Jacques Torres Chocolate Haven is like stepping into that fantasy world. They say, there is something about the chocolates here which would excite your taste buds. In case you wish to try something different, the spicy hot chocolate is just the thing. Yummy!!!