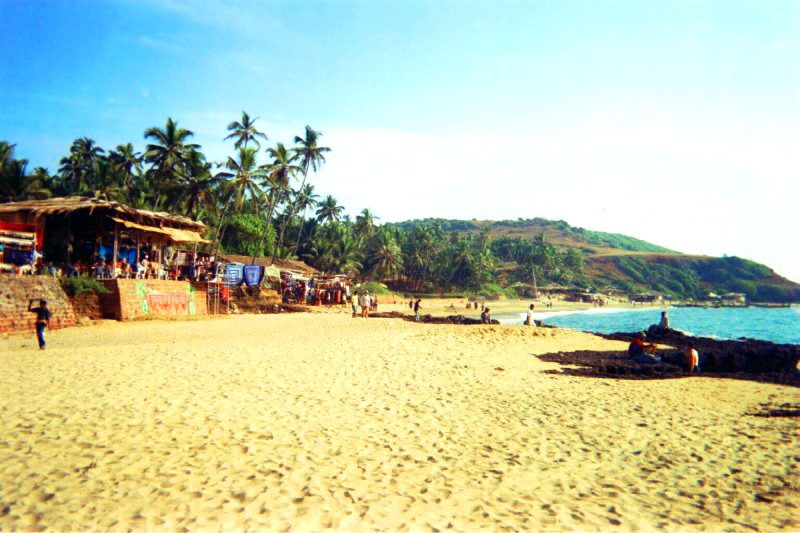 Slashing the azure waters of the Arabian Sea while the air of freedom engulfs you and transform you at a hitherto unseen destination; that's what adventure sports do to you on Goa tour. You dive deep and myriad of fish with their eclectic colours showcase their beauty to you. You would be watching nature at her purest best and she would caress you and tell her story to you.
Image Source – https://upload.wikimedia.org/wikipedia/commons/3/38/India_-_Goa_-_010_-_Touristy_Baga_Beach.jpg
Though snorkeling is practiced in Goa only for a few months in a year, it is one of the most joyous and thrilling activities you can indulge into. At the southern coast of Goa is Bogmalo Beach and the prime center for snorkeling in the state. You watch the marine life with your own eyes in their native environment and the activity will take you close to nature and to your real self. Scuba diving is another joyous activity you must go for on your Goa tour. The experts will train you before you go for the dive and Grande Island is the place where you can indulge yourself into this thrilling experience. Another most interesting adventurous activity to do in Goa is to go for dolphin watching. You can embark on a cruise from Sinquerim, Panaji or Aguada and the guide will show you the activities of the majestic creatures in blue waters of the Arabian Sea. Sailing excursion from Dona Paula is another joyous thing that you must include in your Goa tour package. You will have the perfect view of the beautiful beaches and amazing hillsides.
Image Source – https://upload.wikimedia.org/wikipedia/commons/9/9f/Alanya_Parasailing.jpg
Parasailing is one activity you must include in your Goa itinerary and Arambol and Baga are the beaches where you can go for the activity. You would be talking to the sky while the shimmering waters of the sea with the jostling waves would create a nature's theatre for you. Sometimes the guide can also make you take a dip in the water while you are still harnessed and that is one of the most joyous parts of the activity. There are a number of other water sports available in Goa including wind surfing and catamaran sailing.
Life expects you to explore its full potential and without indulging in adventure sports, you won't be exploring your life's full potential. Pack your bags and embark on the journey to Goa on an adventurous trip. SOTC would make sure your Goa adventure remains hassle free and you remember the good times for your life.