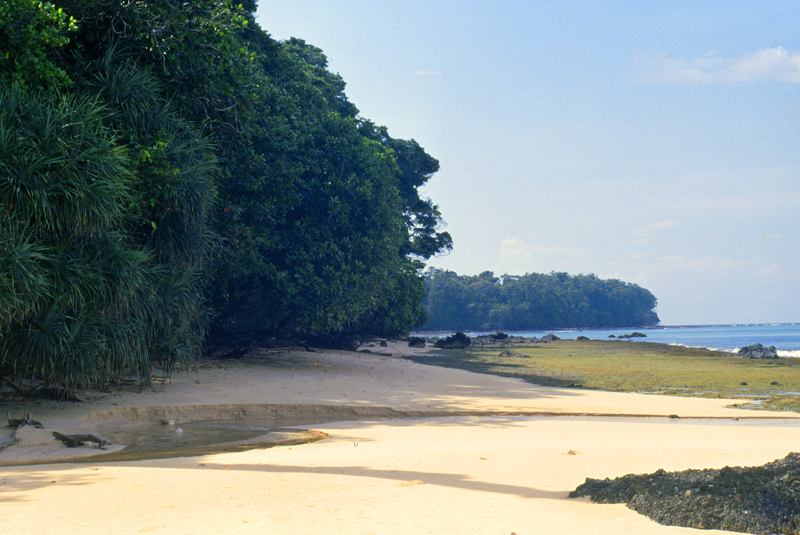 When you make your way through the crystal clear waters of the sea at the Andamans, the adventurous in you gush to the fore. The plants at a depth of the sea sway in anticipation of your caress and you touch them to show your love to nature. When you float on the sea, you make a connection with the faraway places and the zeal to explore more swells inside you. The Andamans will bring out your daring self to conquer all the fears.
Image Source – https://upload.wikimedia.org/wikipedia/commons/b/b6/Ross_Island%2C_Andaman_Islands_5.jpg
Undersea walking is one of the adventures that don't require any prior training, and the joy you get out of it is immense. Just wear the helmet with transparent visor and walk on the pristine bed of sea; you would feel as if the smooth sands are caressing you and the myriad of hues of marine life are there to amaze you.
Image Source – https://upload.wikimedia.org/wikipedia/commons/7/7e/North_bay_island_andmans_%282%29.jpg
Though the activity doesn't require any support, instructors are always there to be your aid if you need. North Bay Island and Elephant Beach are two places where the activity is available. There would be a boat ride first till the start point, and you go deep about 6-7 metres into the sea and explore for yourself how beautiful marine life is.
Image Source – https://upload.wikimedia.org/wikipedia/commons/e/e1/Parasailing_at_the_beach_of_Sopot%2C_Gdansk_%283576%29.jpg
The thrill seeker in you should also go for jet skiing in the waters of the Andamans. It can be done only when the weather is good; the activity is worth waiting for suitable conditions as the adrenaline rush you get out of it is unmatched. The activity should be avoided during a heavy downpour and also when storms are there. Speed boating is another activity that gives you the thrill you love, and you don't need to be in the waters and get wet to enjoy this activity. Parasailing is another joyous sport that doesn't require you to be under the sea and still get the thrill. Tied behind a motorboat with a parachute, you fly like a kite and the cool breeze would touch your face and in the process would soothe your soul. Being so close to the pristine sea would certainly lure you to go fishing. Go for fishing trips in the afternoon and not just catch fish but try to prepare the delicacies and savour them also.
Adventure sports not only give you a thrill, but they also give your soul a renewed purpose, and the Andamans are the islands where you find all the founts to give joy to your body as well as to the soul. Book your Andaman Packages with SOTC now, and we will make sure nothing comes between you and your love for the thrill.