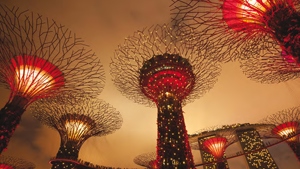 This city with tall buildings, breath-taking views and amazing food is a popular holiday destination. While a lot of newlyweds and couples often reject the idea because of the popular notion that there aren't many romantic things to do in Singapore or places to be. While we agree that it isn't THE ROMANTIC HOTSPOT or honeymoon paradise, we are here today to try and convince you that there are tons of interesting things you can try with your significant other.
1.Garden by the bay
Plan your romantic evening together in the serene environment of Singapore's Gardens by the Bay. From savouring the delicious food to indulging yourselves on a romantic walk amidst the exotic flora and fauna and a wonderful sunset.
2.Singapore river cruise
A river cruise at night seeing the remarkable laser light show by the bay, or a daytime ride to explore the city's skyline and historic building right from the water, either it cannot get any more breath-taking than this. Spend some quality time, and redefine your love and commitment for each other, by the water.
3.Esplanade Roof Garden
A prime location for a laid-back evening with your other half, you can go to the roof garden to enjoy an unobstructed view of Marina Bay Sands. The angles of the roof garden provide the fitting backdrop for those insta-worthy shots.
4.The Singapore Flyer
Ready to have a cosy time coupled with the fine-dining, aboard the iconic Singapore Flyer, the world's largest observation wheel. Take in the scenery as the big wheel takes you above Singapore's iconic landmarks, a view that is bound to leave you both and beloved, breathless.
5.Henderson Waves
Why not take a midnight stroll along this bridge of striking wave-like architecture that connects Mount Faber and the Telok Blangah Parks.
6.Stargazing at the Science Centre
Starry Starry NIGHT! Now this is what we call as romantic. Try viewing some heavenly bodies at the Science Centre Observatory the both of you whilst on your tour to the Singapore City.
7.Little Guilin
Popular with courting couples, newlyweds and wedding photographers, this quaint little gem was originally a disused quarry. Later, it was converted into a tourist spot.
Now that we have given you 7 reasons to fly away to the Singapore city with your lover/to-be-other half, why wait? Start planning and packing for the next adventure you want to experience with your significant other, with SOTC's Singapore tour packages!