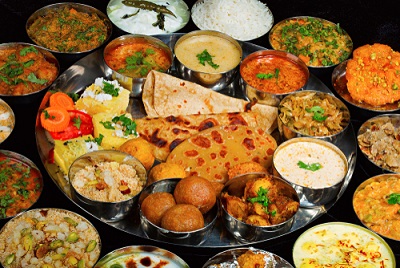 Rajasthan is welcoming and promises to offer a majestic experience. Rich in culture and tradition, Rajasthan will ensure you experience the lifestyle of the Rajputs. From palaces, temples to forts, Rajasthan has got it all. From exploring the age-old forts, shopping for traditional handicrafts or even gorging on mouth-watering Rajasthani delicacies, Rajasthan promises you a tour of a lifetime.
Food and tourism go hand in hand. You are bound to try their authentic dishes while touring for a specific destination. If you are planning to take a tour to the royal destination – Rajasthan, then do not leave this place without trying their authentic Rajasthani dishes. Rajasthan is a beautiful destination that is visited by people from all over. It is home to spectacular landscapes, mesmerizing places, and not to forget rich history.
Do not miss to relish and munch on these lip-smacking Rajasthani food on your next Rajasthan trip. Here are some of the famous and loved Rajasthani dishes you need to try:
Dal Bati & Churma

Dal Bati & Churma
Your Rajasthan trip should include having this local cuisine – Dal Bati and Churma. This is one iconic dish of Rajasthan and should not be missed. This dish is not only famous among the locals, but also the tourists. Made out of whole wheat flour, the round-shaped batis is roasted over the firewood. The dal accompanied by it is made up of spices and varieties of lentils. The churma is basically the crushed bati, soaked in ghee and mixed with jaggery.
Gatte ki Sabzi

Gatte ki Sabzi
Another traditional Rajasthani food you need to try is Gatee ki Sabzi. Gatte is basically a local name for black gram flour dumplings. Gatte ki Sabzi is made using a perfect mixture of curd and spices. It has a tangy taste. There is also gatte ka pulao or khichadi in which the besan balls are mixed with spices and rice. Gatte ki Sabzi is well savoured with Indian flatbread, also known as roti.
Rajasthani Kadhi

Rajasthani Kadhi
Everyone loves to have kadhi, and the famous states who prepare them are Maharashtra, Punjab, and Uttarakhand, and so is Rajasthan. The kadhi prepared in Rajasthan has a spicy and pungent taste and is prepared using gram flour, curd, and ghee. It is light and easy on the stomach. This goes well with rice and spicy potatoes.
Laal Maas

Laal Maas
If you are a non-vegetarian, worry not for Rajasthan has got your back. Do try their famous non-vegetarian dish – Laal Maas. This meat curry is yogurt-based and is made using hot spices such as red Mathania chilies. These red chilies give the curry the fiery taste and rich color.
Bhuna Kukda

Bhuna Kukda
Another amazing non-vegetarian Rajasthani dish you need to try is Bhuna Kukad. This local chicken dish is prepared by marinating it with spices for a long time. It is cooked until it is tender. It is best eaten with Ghee rotis.
Pyaz Kachori

Pyaz Kachori
If you love kachoris, you will definitely love Pyaz kachori. As the name suggests, this kachori has a filling of onions, spices, and potatoes. You can easily find this dish at the Namkeen shop in Rajasthan. It is a side dish or a breakfast snack and is best savoured with sour and sweet tamarind chutney.
Methi Bajra Poori

Methi Bajra Poori
Another famous Rajasthani snacks among the health conscious people are Methi Bajra Poori. It is prepared using minimum oil. These pooris taste delicious with potato, chutney, and raita.
Ghevar

Ghevar
Rajasthan is known for its sweet dishes. When talking about Rajasthani sweets, the one that tops the list is Ghevar. It is a sweet dish made using sugar syrup, milk, and flour. You will find this sweet majorly during festivals like Teej and Raksha Bandhan. However, you can also find them in local sweet shops. Three varieties of Ghevar you can try – Mava Ghevar, Malai Ghevar, and Plain Ghevar.
Badam ka Halwa
Badam Ka Halwa
Another Rajasthani sweet you need to try is Badam ka Halwa. Also known as almond sheera, this mouth-watering and royal dish is made using milk, peeled almonds, ghee, sugar, and cardamom powder.
Dilkushar

Dilkushar
Tantalize your sweet tooth with this delicious sweet dish – Dilkushar. Also popularly known as besan ki barfi, this authentic Rajasthani dessert is made using ghee, khoya, stir-fried besan, and cream.
Churma Laddoo
Churma Laddoo
Do you recall we spoke about churma with the delicious dal bati? Well, the jaggery and ghee churma are also shaped as laddoos and considered to be the best sweet dish of Rajasthan.
Apart from these Rajasthani dishes, you can even have the traditional Rajasthani thali, which consists of multiple food items and are loaded with spices, ghee, and more. Top Rajasthani restaurant that serves the best thali is Chokhi Dhani and Laxmi Mishthan Bhandar. Enjoy these flavorsome and mouth-watering flavors on your next Rajasthan trip.