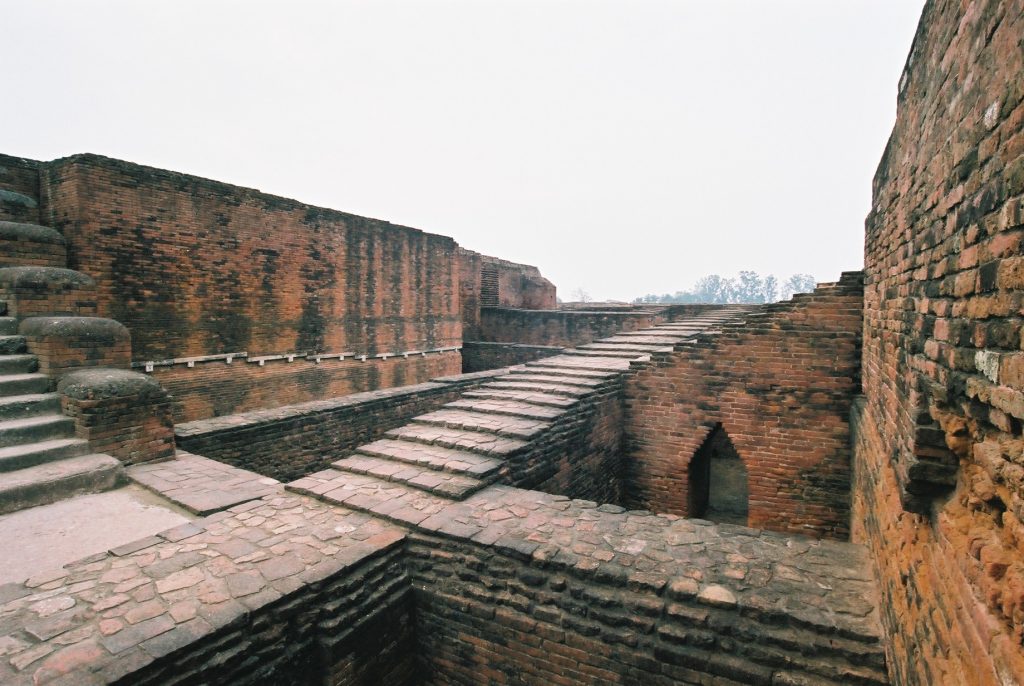 Another tryst with Indian roots of learning and knowledge. The oldest and most prestigious centre for Buddhist learning in India, Nalanda University was founded in the 5th century A.D. on the fertile lands of Bihar, in ancient India. Mysterious, inspiring and complex, the Nalanda site encompassed an area of 14 hectares and boasted a vast library during the flourished era of Gupta Empire in India.
Image Source –https://upload.wikimedia.org/wikipedia/commons/4/4c/Nalanda_University_India_ruins.jpg
Discovered during the archaeological excavations, Nalanda stood as one of the world's finest university for arts, literature, philosophy and politics. Great learned scholars not only from the Indian soils resided in the tavern of education but learned men from far up to Tibet, China, Greece and Persia found their abode in the teachings of Nalanda. Embark on a historical journey at Letsgo through the magnificent architectures, stone-built stupas and a reverberating history of this temple of knowledge: Nalanda University.
'His'story
Blessed by the holy presence of Gautam Buddha, founder of Buddhism, Nalanda traces its journey to be the first residential school in world history. 'Insatiable in giving' is what Nalanda's etymology suggests. A walk down the lost ruins of Nalanda University makes one witness of the great patronage and heritage of Indian culture. Historians suggest that the university was established during the reign of Sakraditya Gupta. A masterpiece in those days, its intricate administrative structure helped the functioning of eastern India (ancient Bengal and Magadha).
The Gupta era nurtured the grandeur and splendour of Nalanda. Emperor Asoka and Harshavardhan were known to build several temples and monasteries in its campus. The famous Chinese scholar, Hieun Tsang, who travelled across the world finally coming to Nalanda, gave elaborate descriptions on the architecture, culture and ambiance of Nalanda in his travelogues. Another renowned Chinese scholar who reported his stay in Nalanda was Hsuan Chwang who studied with the abbot Shilabhadra and was mesmerized by the hospitality and knowledge offered on his platter.
Architecture to astound
Image Source –https://upload.wikimedia.org/wikipedia/commons/thumb/d/d4/Nalanda.jpg/800px-Nalanda.jpg
A campus as elaborate as it was, Nalanda housed around 2,000 teachers and 10,000 students. A great monastic university that later became the crowned jewel of Buddhism in India. In a detailed excavation, Nalanda was found to have elaborate structures of stupas, monasteries, hostels, stair case, meditation halls, lecture halls, chaityas, temples, exquisite gardens and parks for recreation. Nalanda University is considered among the 7 wonders of India. The golden period of Harshavardhan had 200 villages under Nalanda's jurisdiction. A nine storied library building with intense scriptures and manuscripts found their home in Nalanda. Sariputta's stupa was construed by King Ajatashatru to commemorate the death of Sariputta, one of the ardent followers' of Buddha. The stupa still stands tall among the enormous ruins of Nalanda.
The great fall
By the time of 1049-57 A.D. Nalanda's traditions had spread their roots in the monasteries of Tibet and Middle East. Bakhtiyar Khilji, a Turkish emperor invaded Indian soils in 1193 and ransacked the university. Thus, began the downfall of this heritage institute. With a view to end Buddhism and propagate Islam, Khilji burned to ashes the library. It is believed that the grand library burned for three months, destroying the entire collection of scriptures, books and Vedas. Nalanda has lost its hold and buried under debris by the time of 1235 A.D.
Image Source – https://upload.wikimedia.org/wikipedia/commons/e/e4/Nalanda_Ruins.jpg
With the loss of such great patronage, the Indian Govt. in collaboration with the Japanese and Singaporean Govt. has plans to revive this university. Nalanda International University is slated to begin its coursework and impart knowledge by the end of 2013. Currently, the Nalanda Museum holds the motifs, seals, saved scriptures and relics of this 'ancient seat of learning'. Walk down your past and relive this memorable history.