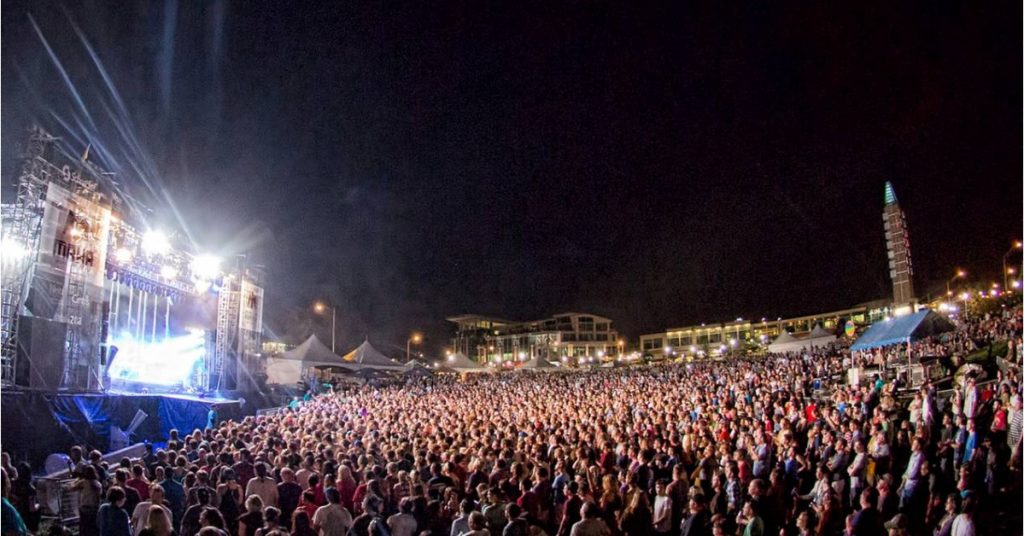 In the jam-packed festival calendar of Australia, pick your musical bliss where dance, blues, jazz, indie, rock, folk and classical music are all on offer. Witness international acts at huge national festivals such as Big Day Out, Good Vibrations, V Festival, Parklife and many more. Some of Australia's best performers have risen from ranks to stardom beginning their careers performing at the music festivals of Australia. Let's Go takes a peek into some of these popular music festivals.
Image Source – https://upload.wikimedia.org/wikipedia/commons/6/65/Bigdayout_goteam.jpg
Australia has produced a wide variety of popular and rock music. Rock music has also traditionally been the mainstay of Australian music culture and group releases. Dance music and hip hop has only recently gained nationwide acceptance and airplay.
Big Day Out – a great melodious event
Image Source – https://upload.wikimedia.org/wikipedia/commons/4/4a/Greenstage_bigdayout_crowd.jpg
The Big Day Out is an annual music festival held in several cities in Australia and New Zealand in late January. It started in Sydney in 1992 and in 2003 it had featured eight stages accommodating popular contemporary rock music, electronic music, mainstream international acts and local acts.
Since launching with the dream lineup of Nirvana, the Violent Femmes and You Am I, the Big Day Out has been considered Australia's premiere music bash. It has attracted a large range of artists like Blink 182, Iggy Pop, The Ramones, Marilyn Manson, Red Hot Chilli Peppers and most recently Neil Young. Being Australia's mainstream and accessible music festival the BDO is a great melodious event to attend.
Good Vibrations Festival – jive and vibe with the best
Good Vibrations Festival is an eclectic, credible and stylish live music happening held in Melbourne, Sydney, Gold Coast and Perth in February every year. Continuing the belief in high standards, Justin Hemmes and Jam Music launched the festival in 2004 with meticulous attention to the finer details that make all the difference. Using botanical gardens and other stunning sites, Good Vibrations Festival focuses on quality with a varied, forward-thinking artist line-up for clued-up crowds who have come to expect the best.
Some of the artists who have performed at Good Vibrations Festival include James Brown; The Killlers, Snoop Dogg, Beastie Boys, Kanye West, Fatboy Slim, Basement Jaxx, Scissor Sisters, Deadmau5, Calvin Harris, Damian Marley & Nas, Salt N Pepa, etc.
V Festival – bounce back with a bang
The Australian V Festival is a spin-off of the British V Festival. It is the people's festival. Richard Branson brought his famed UK concert series to Australia with much fanfare. The decidedly Q Magazine slant of the lineups has given the festival its own niche among powerhouses like the Big Day Out. Despite often running at a loss, the V Fest is well-known for its brilliant event management with little congestion and top-notch staging. Since 2009 V Festival has been in hiatus, taking a break at the moment but is set to return in 2012 they say.
Parklife – mingle with the locals
Parklife has cemented itself as a go-to dance genre festival – neatly blending monoliths like Justice and M.I.A. with DJs du jour and local acts. When paired with its raging post-festival party, After Life, Parklife is a rock-hard assault on the senses.
The Parklife festival event is extremely popular with the residents of Brisbane. People from all sections of society come together and party in the parks and streets of the city. The highlights of the event are live musical performances by domestic as well as international artists. World-class DJs belt out remixes of latest and old chartbusters, which will force you to wear your dancing shoes and groove to the beats of the music. A wide variety of music is dished out in the festival that includes house rock, electro, hip-hop, dub, breaks, beats, turntablism and more. Well it's the happening place you would definitely want to be in.
Homebake – an affordable and harmonious affair
Homebake has become the quintessential all-Australian music festival held each December at the Domain in Sydney. It has an awe-inspiring lineup of artists and the atmosphere and unbelievable rush for tickets make this one of the finest festivals. Created to present contemporary music over a wide variety of styles, the Homebake objective is to provide an affordable one day outdoor festival that features an array of the biggest names in Australian contemporary music.
The international standard of live music performed at each Homebake festival is combined with an array of street performers, amusement rides, a Cinema Tent, local food and stalls – all melded together to create the perfect festival atmosphere.
Melbourne International Jazz Festival
Image Source – https://upload.wikimedia.org/wikipedia/commons/a/a3/Muse_melbourne28012010.jpg
Melbourne, with legendary venues such as Bennett's Lane and Hamer Hall, annually puts on Australia's best dose of jazz, blues and funk. The appearance of the legendary pianist and composer Herbie Hancock in 2007 speaks volumes about the quality of the talent roster. Though not the hip-hop type it still is the perfect place for those who'd prefer a quiet set with a glass of wine after work.
Falls Festival – a dual bonanza
The reigning king of New Year's Eve festivals, the Falls Festival has become a very important event on the Australian music calendar. The event sees two sets of lineups perform simultaneously in Victoria and Tasmania. Falls has become synonymous with quality international acts, with the likes of Santigold, The Kooks, The Yeah Yeah Yeahs, and Grizzly Bear. Tickets are difficult to get so booking early is well worth the effort. Choosing between the two sites is difficult, but usually the masses gravitate to Lorne. Nevertheless the Marion Bay campsite has an absolutely stunning view overlooking the water.
Meredith Music Festival – old and stylish
Sometimes it seems the Meredith Music Festival is akin to an art exhibition – it's a credible music Mecca. Famously articulating their three rules, "No glass, no bean bags, no dickheads," the festival is one of the oldest in the country. The set usually runs experimental acts in the vein of Animal Collective and The Bronx side by side with more accessible sets from the likes of MGMT and The Presets. The regional Victorian setting only helps the event feel more intimate.
Splendour in the Grass – revel in the slush
Image Source – https://upload.wikimedia.org/wikipedia/commons/d/dc/Editors_performing_at_2007_Splendor_in_the_Grass_Festival.jpg
Byron's wintertime bash gets national attention for good reason. Often drawing one of the highest quality international lineups of the year, the Splendour weekend drags revelers from all corners of the country. Naturally, the backdrop of Byron Bay gifts the festival with an aura of granola-crunching and open-air yoga sessions. Boots are a necessity, with the site pretty susceptible to mud. Though campsite accommodation is available, booking hotel accommodation early in Byron or Ballina will make for a comfortable festival weekend.
St. Jerome's Laneway Festival
St. Jerome's Laneway Festival has grown exponentially since debuting in 2004. A critic's darling, the festival takes place in small laneways and urban passages throughout each city. The urban setting, coupled with the comparatively tiny crowd capacity, has breathed fresh air into the festival circuit. It certainly doesn't have the vast musical range of the other festivals, but its intimate summer atmosphere and brilliant direction make this a festival that everybody should experience.
If you are a music lover or just want to have a fun-filled easy-going holiday or you want to bump and grind or you feel like just hanging out listening to music then head to the Music festivals of Australia and have a swinging time.
Enjoy the best of Australia and New Zealand with SOTC's Australia tour packages and New Zealand tour packages!