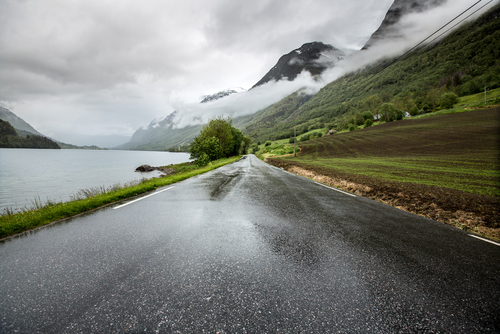 Anyone who says sunshine brings happiness has never danced in the rain.
As the sky shows its love by pouring drops of joy, the earth smells of purity and washes down all the dust and you know monsoon has finally arrived. Monsoon brings with it a different kind of feeling that words alone cannot explain. It is joyous and exciting. It is also the time to visit and explore spots that bring out the best in nature. So, while you are thinking about what places to visit, we have simplified the process by giving a list of places you can visit near Delhi in monsoon.
Manesar
When you are talking about experiencing monsoon in Delhi, you should not forget Manesar. Lying beautifully in Gurgaon district of Haryana, Manesar has grown to be a major industrial town. You are bound to fall in love with the lush green landscapes, scenic views, and placid lakes.
Distance – 43 km
Neemrana Fort
If the history of a place always excites you, then head to Neemrana Fort. No matter what season, this fort gives out sheer beauty. During rains, the fort comes alive with a lush green surrounding that makes the whole place beautiful.
Distance – 117 km
Bharatpur
Bharatpur is another beautiful spot everyone should visit near Delhi in monsoon. It is an ideal spot for nature lovers. It is renowned for the UNESCO listed Keoladeo Ghana National Park. The best way to witness the beauty of Bharatpur is with a cycle ride in Bharatpur Bird Sanctuary. It is time to enjoy the verdant hills and witness exotic birds.
Distance – 198 km
Corbett National Park
Ask anyone and everyone would suggest you visit Corbett National Park during monsoons. The entire forest comes alive as the dark clouds find its way to Delhi. It is just an experience you should not miss. You will be enthralled with the rich flora and fauna. It makes a perfect weekend getaway.
Distance – 230 km
Lansdowne
If you want to spend some alone time, then head to Lansdowne. It is a pretty tiny hill station located beautifully in the Garhwal region. You are bound to fall in love with the pristine landscapes, enchanting milieu, and this is what makes Lansdowne a perfect weekend spot.
Distance – 254 km
Morni Hills
Another beautiful monsoon getaway that should not be missed is Morni Hills. It is the only hill station in Haryana, and this is what makes it the most visited one. You will be taken back with the placid lakes, scenic Himalayan views and not to forget rich flora. Do experience boating here.
Distance – 272 km
Mussoorie
Another popular hill station among the locals and tourists is Mussoorie. This hill station in Uttarakhand is visited all the year round. Home to the famous author Ruskin Bond, Mussoorie brings out the best during monsoons. The rich flora and fauna, verdant hills, and scenic views are something that will make you visit this place again and again.
Distance – 286 km
No matter if you are planning a monsoon tour with your friends or family; do make it a point to visit these monsoon spots near Delhi. Also, go through our monsoon holidays to make the most of your monsoon trip.