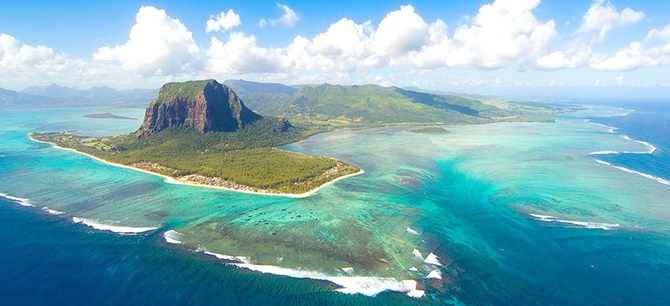 It seems oceans also love lush green outgrowth as they create such beautiful islands from nowhere to give feast to their eyes. Mauritius, the love of the Indian Ocean, is one such island that nature created at later part of the earth's creation to embellish itself with some fresh ornaments. The coral reefs, the wild life, the whole place is so mesmerizing that you would want yourself to be lost in the jungles and survive on wild fruits and berries. When you meet the inhabitants of Mauritius you would find how their culture resembles with that of yours. A substantial population of the country is migrated from India during colonial period and now they practice Indian culture it its purer, more pristine form.
Mauritius is renowned for its marine adventure activities and if the place has so much fame for that aspect, there have to be something special about it. Parasailing is one of the prime activities on the island and you can go for it at Grand Baie, Trou d'eau Douce and Ile aux Cerfs. Finding mysterious caves has its unique joy and kayaking gives you that opportunity. You start at Pointe Aux Sable and start paddling though waters your own in a single or double kayak. You will discover such beauty of marine life you would remember it for your life time. If you are looking for more adrenalin rush, there is water skiing. Wading through waters and the blue drops sprinkling on your face would give you a new high. Grand Baie and Trou d'eau Douce are the places where you can enjoy water skiing in Mauritius. To quench your thirst for more marine activities there is windsurfing. This great form of workout is available at Le Morne peninsula, Manawa, One Eye and Small reef. There are several other marine adventures including sea walking, sea hover, underwater scooter, snorkeling, scuba diving and whale and dolphin watching.
Sea not only gives you adrenalin rush, it relaxes you as well. Come to Le Souffleur, you can hear the breathing of nature at the place. The sea water washing the porous rocks create such symphony that no manmade music can compete with that. At the place your senses will be in such a calm state that a new you would emerge from that trip. Other must not miss place is Ile aux Cerf, the heavenly abode of nature.
When you have so much beauty to soak in, it would be improper not to give your senses the joy of that beauty. Book your Mauritius tour packages now and open the world of azure beauty for yourself. SOTC will be there at every step of your trip so that you get the hassle free joy.