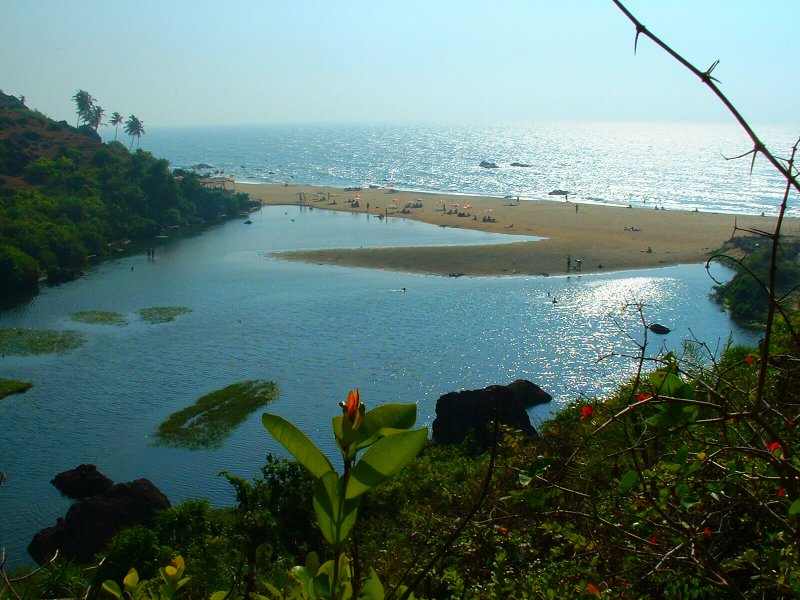 Goa is home to an array of animals and birds, and their eclectic variety would make you love the state even more. The state is considered as the heaven for bird watchers and authorities, too, make sure that wildlife remains protected: about twenty percent of its geographical area is protected shows how sincere the state is about protecting its flora and fauna. When you visit its wildlife sanctuaries, you would love Goa more.
Image Source – https://upload.wikimedia.org/wikipedia/commons/e/e1/%281%29_Querim_beach_Goa_India_2013.jpg
Bhagwan Mahaveer Wildlife Sanctuary is one of the biggest in Goa and not only its flora and fauna that would attract you, but the waterfall inside the park and numerous beautiful temples at the edge of the park also add their hue to the beauty of the place. You can spot Bengal Tiger, Panther and several varieties of birds like Common Mormon, Blue Mormon and Common Jezebel inside the park. The adventure lover in you can go for jungle safari and night safari and the best time to be at the park is between November to March.
Image Source – https://upload.wikimedia.org/wikipedia/commons/6/63/Glassy_Tiger.jpg
Mhadei Wildlife Sanctuary is another must visit park on your Goa tour. Located in Sattari Taluka of North Goa district, the park is known for its high biodiversity and Bengal Tigers are the prime attractions in the park. The park also has the distinction of being home to some of the most beautiful waterfalls including Vazra Sakla Waterfalls and Virdi Falls.
Image Source – http://famousplacesinindia.in/Wildlife-Sanctuaries/Images/Netravali-Wildlife-Sanctuary/Netravali-Wildlife-Sanctuary-1.jpg
Netravali Wildlife Sanctuary is the latest entrant in the wildlife scene of the state and one of the most beautiful in the Western Ghats. There are wide varieties of flora and fauna in the park including Panthers and Giant Squirrels. The park is considered a paradise for butterflies and birds, and you can spot several of them including Grey Headed Bulbul and Great Pied Hornbill. October to March is considered the best period to visit the park. The tree lover in you would love to visit Cotigao Wildlife Sanctuary and October to March is the period when the park is at its full bloom, and you must include this park in your Goa itinerary. There are a number of other sanctuaries in Goa including Salim Ali Bird Sanctuary and Bondla Wildlife Sanctuary.
Image Source – https://upload.wikimedia.org/wikipedia/commons/4/43/Grey-headed_Bulbul%2C_Karnataka_1.jpg
Visits to wildlife sanctuaries bring sanity to your soul and Goa is the one place that has wildlife in aplenty to give you an experience of a lifetime. Go for wildlife tour of Goa and bring SOTC on board to plan your Goa tour in the perfect manner.