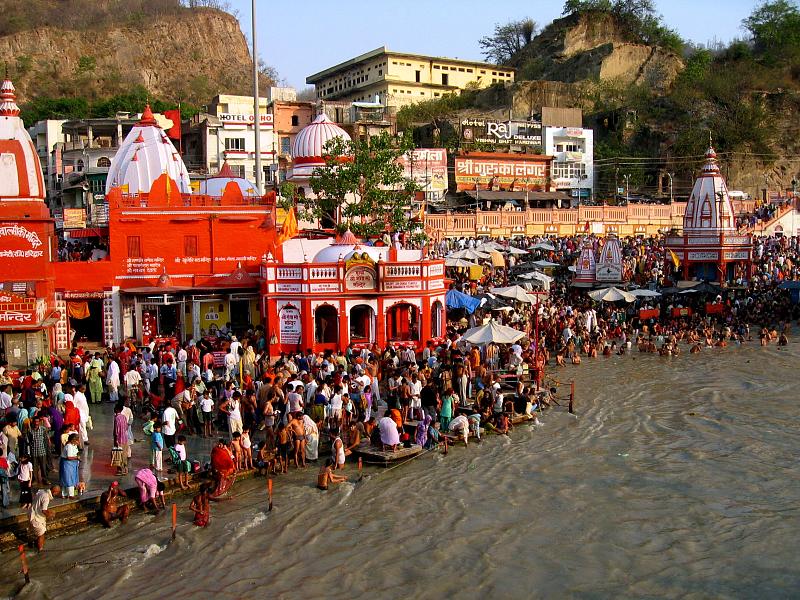 Also known as 'Kumbha Mela', this is a mass Hindu pilgrimage of faith. A large number of Hindus gather here to bathe in the holy or sacred river. Traditionally known as the festival of the holy Pitcher, Kumbh Mela witnesses' devotees from all over. Devotees believe a dip in this sacred river will help in washing off all the sins that liberate him/her from the cycle of death and birth.
History of Kumbh Mela
While you might have heard a lot about this festival, how about you dig a little deeper into its history? This helps you get an insight into why this festival plays a major role. Talking about history, Kumbh derives its name from the immortal Pot of Nectar which both the Demons (Asuras) and the Demigods (Devtas) fought over. The same has been described in the ancient Vedic scriptures also known as Puranas. Standing the test of time are these Vedic literatures, where the tradition has evolved into the one and the world knows it as the famous 'The Kumbh Mela'.
According to the legends, during good old days, the nectar of immortality was produced mutually by the demigods and demons. As the demigods were cursed, they were crippled by fear, and this eventually made them weak.  As the task was too difficult for them alone, the demigods came to an agreement with the demons to share the immorality nectar in half once completed. As far as the churning of milk was concerned, it was done by Mandara Mountain who was used as the churning rod. While Vasuki – the King of Serpents was the rope for churning. After the churning, the ocean produced deadly poison. It was Lord Shiva who drank the same without getting affected. While he drank, few drops fell which were licked by snakes, scorpions and other deadly creatures. During the churning, Mandara Mountain began to sink, seeing which, Lord Vishnu took the form of an enormous tortoise and offered support to the mountain on his back. 1000 years later, Dhanwantari appeared holding the Kumbh of immortal nectar. As the demigods feared demons, demigods seized the pot and entrusted the same to four Gods – Chandra, Brahaspati, Shani and Surya.
The demons came to know that the promise had been broken and hence went after the demigods. The chase continued for 12 days and 12 nights. It is believed, that during the chase, few of the drops of the nectar fell at four places – Haridwar, Allahabad, Nasik and Ujjain.
Why is it celebrated after 12 Years?
After the demons came to know that the agreement was broken, they chased the gods for 12 days and nights. 12 days of Gods is equal to 12 years of humans. And this is the only reason why Kumbh Mela is celebrated once every 12 years in each of these places – River Kshipra in Ujjain, Banks of river Godavari in Nasik, Sangam of Ganges, Yamuna and Saraswati in Allahabad and river Ganges in Haridwar.
Kumbh Mela – What it is about?
Kumbh Mela is basically a mass Hindu pilgrimage in which Hindus gather together to bathe in the sacred river. It is held once in 12 years, and there is a difference of three years between the Kumbh Mela of Nasik and Haridwar.
Kumbh Mela in Years
1980 – Nasik
1980 – Ujjain
1986 – Haridwar
1989 – Allahabad
1992 – Nasik
1992 – Ujjain
1998 – Haridwar
2001 – Allahabad
2003 – Nasik
2004 – Ujjain
2010 – Haridwar
2015 – Nasik
2016 – Haridwar
2019 – Allahabad
Kumbha Locations
Allahabad – It takes place in three sacred rivers – Ganga, Saraswati and Yamuna. It is held when Jupiter is in Taurus, and the moon and the sun are in Capricorn.
Ujjain – Known as Ujjain Simhastha, it is held near Kshpira River when the Jupiter is in Leo.
Haridwar – It is held near the banks of Ganga River when Jupiter is in Aquarius and when the sun enters Aries.
Nasik – Known as Nashik-Trimbakeshwar Simhastha, it is held either when Jupiter, moon and sun are in Cancer on lunar conjunction or when Jupiter is in Leo. It takes place on Godavari River.
Kumbh Mela in 2019!
Kumbh Mela is about to start next year in January 2019. According to the reports, Kumbh 2019 is going to be eco-friendly. This will serve as a perfect opportunity for 'Kumhars' or potters. The authorities have decided to promote 'Kullhad' or earthen pots, and 'Dona-pattal' or Sal and Banyan leaves plates for pilgrims and devotees. Beverages such as tea, coffee and more will be served at 'Kullhads'. Besides, the authorities also aim at maximising the use of cotton and jute bags.
Schedule:
| | | |
| --- | --- | --- |
| Name of Festival | Date | Day |
| Makar Sankranti | 15-01-2019 | Tuesday |
| Paush Purnima | 21-01-2019 | Monday |
| Mauni Amavasya (Somvati) | 04-02-2019 | Monday |
| Basant Panchami | 10-02-2019 | Sunday |
| Maghi Purnima | 19-02-2019 | Tuesday |
| Mahashivratri | 04-03-2019 | Monday |
Interesting Facts about Kumbh Mela
Hindus believe that bathing in the sacred waters helps in washing away all the sins. Besides, it takes a step closer to salvation.
Kumbh Mela is visited by holy men from different Hindu sects like Nagas, Urdhawavahurs and Kalpwasis.
This famous festival is more than 2000 years old. The first evidence of the same is seen in the accounts of the Chinese traveller – Xuanzang. He visited India during King Harshavardhana's reign.
Book your Allahabad Holiday Packages or Haridwar Tour Packages today to experience the best of Kumbh Mela. Also, browse through our custom Indian Holiday Packages to plan your holiday.