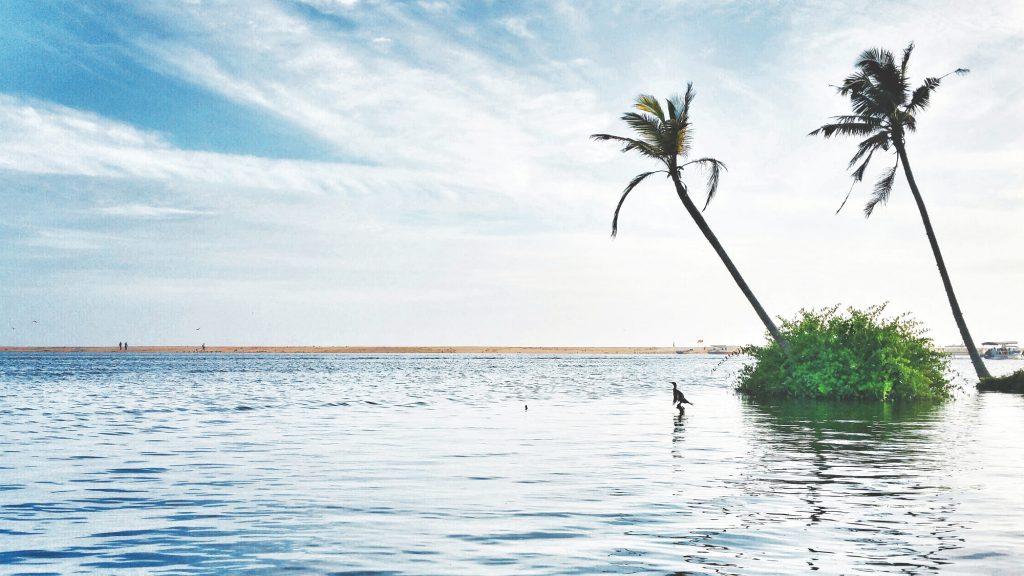 Kerala is home to a number of beautiful attractions. Make your trip to this 'God's Own Country' a memorable one by visiting these top destinations.
Here is the list of popular tourist places that you can visit in Kerala with SOTC's Kerala packages.
MUNNAR
Image Source – https://upload.wikimedia.org/wikipedia/commons/5/5d/The_Kanan_Devan_Hills_%28Tea_estates%29_of_Munnar%2C_Kerala.jpg
One of the most beautiful hill stations in the mountain range of the Western Ghats, Munnar would take you so close to nature that the patina of anything artificial would crumble in no moment. The magnetic charm of lush green forests and valleys would take to another, ethereal world. God's own country comes out with more embellishments at Munnar. There was a time when it was famous for its tea plantations, but its beauty couldn't keep tourists away from the place for long and now it is among the most visited tourist sites in India.
Things To Do
You would be so much in awe of the place that just a stroll for a while would make your day and your senses would be in a relaxed and calm state. Mattupetty Lake with its scenic beauty would lure you so much that you might stop looking at anything else. Tata Tea Museum is also one of unique places and should be in the tourist's itinerary of Munnar. There are plenty of options for adventure lovers also and trekking and hiking in the mountains is among the joyous experiences at Munnar. There are several other places to explore like Attukal Waterfall, Devilulum and Rajmala Hills.
When To Visit
Its pleasant weather makes it an ideal destination all through the year and it's you who decide when to visit rather than waiting for the ideal weather. During monsoon season some people suggest to avoid the place but those who want to explore the true beauty of the place, going there during monsoon is a good idea.
How To Reach
The nearest airport from Munnar is 110 kilometres away at Cochin, that has domestic as well as international facilities. It has flights to all parts of India and selected international destinations also. The nearest major railway station is Ernakulam, about 130 kilometres away and is connected to all parts of India with rail network. Buses are available for Munnar from all major cities of Kerala and Tamil Nadu.
ALLEPPEY
Image Source – https://upload.wikimedia.org/wikipedia/commons/a/a8/Alleppey_kerala.jpg
Palm fronds admiring themselves in pellucid waters, hyacinths making way for houseboats; beauty so still, yet so vibrant: that's Alleppey for you. Officially now known as Alappuzha, bustling life at both sides of the waterways would make you think its tag 'Venice of the East', is apt for the place. The Laccadive Sea on the west of the district gives it a unique charm as it's so close to sea yet the fresh water bodies are in abundance at the place.
Things To Do
Forget all the modern gadgets for a while and just look at the surroundings, the paddy fields, the villages, soak your eyes with the beauty of the place and rejuvenate your senses. Sports enthusiasts throng to the place in August when the annual boat race is organized on the Punnamada Lake. It is one of its kinds in India. You can find a variety of south Indian cuisines here and a tourist can find other cuisines also according to the taste. Being a coastal area sea food is bound to be an integral part of people's diet here and a tourist also must enjoy the fresh prawns and lobsters at this place.
When To Visit
Winter is considered the best to visit Alleppey; though the average temperature hovers around 30 degree Celsius throughout the year. October to February is the time when the scenic beauty of the surroundings would entice you with their perfect glory. Being close to sea, it's humidity that enshroud the place during summer months. Rainy season, too, lasts a bit longer here.
How To Reach
The nearest airport is Cochin, just 75 kilometres from Alleppey. It is well connected by air from different parts of India. Air India, Jet Airways and Indigo operate non-stop flights from Mumbai and it takes around 2 hours to reach there from Mumbai. It is well connected by Bus and train route also and has direct trains from Mumbai and Delhi also.
KOVALAM
Image Source – https://upload.wikimedia.org/wikipedia/commons/9/98/Kovalam_Beach_near_Trivandrum.JPG
Just 16 kilometres from the capital Thiruvananthapuram, Kovalam presents another vista of the bustling city. Its three beaches separated by rocky promontories take you to a pristine world where the grove of coconut trees sway to welcome you. It has a prominent place among the tourists from Europe and Israel and especially among those who look for worry free nests and forget all the inhibitions of the world.
Things To Do
Do nothing, think nothing, just relax on the beach under parasol or even without and let your imagination fly. The breeze from Arabian Sea would give a new wave to your thought process and momentarily you can see the concrete shape of your dreams on the undulating waves of the sea. The tree beaches: Lighthouse, Hawah and Samudra provide a panoramic view of the sea and a walk on the beach under moonlit night with water washing your feet is an exhilarating experience. With Ayurveda gaining prominent place among health conscious people, it also has many prominent salons to enjoy that rejuvenating experience.
Vizhinjam, just 3 kilometres away from Kovalam is another beautiful place to explore. Famous for its seafood, it has many old temples also. There are a number of churches and mosques, too, famed for their architectural style.
When To Visit
Though November to February is considered the best time to visit Kovalam, its always welcoming climate would suit you whenever you go. During winter the maximum temperature remains below 35 degree Celsius while the minimum remains at around 16 degree Celsius. Though some tourists are wary of rains, monsoon season presents a different vista of Kovalam and an adventurous traveler must think of visiting the place during rainy season. The place is at its glorious best during the season.
How To Reach
Trivandrum airport is the closest access point for Kovlam and all the major carriers have their flights for Trivandrum. The flights are available for international destinations as well. Trains are available from all the major cities of India and bus route is also quite convenient as several luxury services ply on the route.
THEKKADY
Image Source – https://upload.wikimedia.org/wikipedia/commons/2/2b/Thekkady-in-Kerala-State.jpg
Elephants roaming freely in their natural self, beauty all pervading; visit Thekkady, come close to nature. Home to Periyar National Park, it is wildlife that keeps the surroundings pristine. Known for its tigers and elephants, it has many rare animals. White tiger has been spotted as well in the park. Thekkady also has its reputation for spices including nutmeg, black pepper, clove and cardamom.
Things To Do
Visit to wildlife sanctuary is the prime attraction in Thekkady, though there are some other allurements that keep you amazed throughout your stay. A trek in the Spring Valley Mountain is something all adventure lovers would go for while spending time in lush green Pandikuzhi is itself a rejuvenating experience. A boat ride in the lake near the sanctuary is among the most exciting experiences you can have as you can see the elephants and other animals drinking water on the bank while you are on a boat in the middle of the lake.
When To Visit
October to February is the ideal time to visit Thekkady when the lush green forests welcome you with open arms. It's the time when monsoon retreats paving way for a verdant veneer throughout the area. It's the best time for safari, too, when the animals enjoy the calmness of nature after the replenishment during monsoon. The temperature is around 15 degree Celsius during the period. An adventurous traveler can explore Thekkady during June to September as well, though you need to be prepared with umbrellas and other rain gears.
How To Reach
Though being in Kerala, Thekkady is located on the border with Tamil Nadu and the nearest airport is Madurai, about 136 kilometres away. Cochin is the nearest international airport. Buses are available from Cochin, Kottayam and Thiruananthapuram. Thekkady has its nearest railway station at Kottayam which is well connected with all the major cities of India.