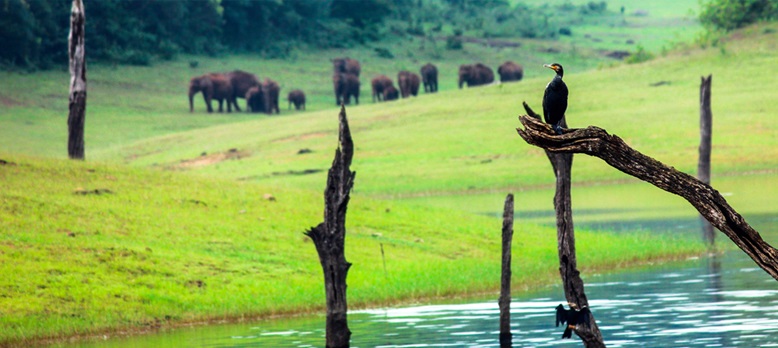 Deer gamboling in the vicinity startle with the roar of a tiger: that's how nature presents herself to us in her pristine form and Kerala is the place where you will find such instances in aplenty. You can go boating in lake and look at majestic animals drinking water at the bank and that would make you feel how nature has her own ways to convey her grand scheme to the dwellers of the earth.
Periyar Wildlife Sanctuary, the gem of the Western Ghats, is home to some of the rare flora and fauna. The Periyar Lake inside the sanctuary gives you the glimpse of the beauty of the place as with the lake moves the contours of the sanctuary and you would be in love with the curves. Elephant ride in the sanctuary is also quite popular as you would be able to see the animals from close quarters. November to April period is considered the best time to visit the park. Parambikulam Wildlife Sanctuary is another must visit place on your Kerala tour. Situated in Palakkad district, the sanctuary is home to many species of animals including big cats like Bengal tiger and leopards. It also has several species of reptiles. Idukki Wildlife Sanctuary is also a place to explore and trekking in the forest is the best way to be close to the animals in their natural habitat. December to April period is considered suitable to explore the sanctuary. Another gem is Idukki is Chinnar Wildlife Sanctuary and camping inside the park will introduce you to nature in her most pristine form.
When you talk about wildlife in Kerala, Wayanad is the one place that must be a part of it. The Sanctuary at Wayanad is home to eclectic mix of animals including tigers, elephants, leopards and wild dogs. Part of Wayanad Plateau, the sanctuary can be explored while riding on elephant and the best time to visit the place is from June to October. There are a number of other wildlife sanctuaries also in Kerala and that include Peppara Wildlife Sanctuary, Aralam, Chimmony Wildlife Sanctuary and Kumarakom Bird Sanctuary.
Being only among the humans is exploring only one aspect of nature; to understand her in her true form you need to explore wildlife and spend time with those beautiful creations. Start exploration of wildlife on your next Kerala Tour. SOTC is there for you to make your journey a smooth one. Visit Kerala with SOTC's Kerala Tour Packages.