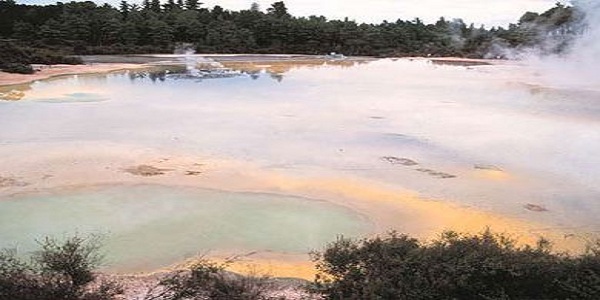 While many tourists travel the world for sightseeing or foreign shopping, a visit to New Zealand offers more than just that. A part from its picturesque landscapes enhanced by numerous natural locations, New Zealand also boasts one of the world's largest numbers of natural hot springs and spas that have become a major tourist attraction there.
New Zealand is famous for its natural hot springs, most of which are known for their therapeutic purposes. Join us as we visit the 5 best natural hot springs and saunas. Take a dip to beat the chills of and detoxify yourself from the toxins.
1. Hanmer Springs Thermal Pools
Hanmer Springs Thermal Pools spell class and pleasure. The facility is well maintained to offer world class services to its visitors. Unlike some hot springs of this class that are heated artificially, Hanmer Springs Thermal Pools are natural in all sense to offer the best of rock and sulphurs pools for your soothing indulgence. Whether you go there as a couple, friends or a family affair, Hanmer Springs Thermal Pools have what it takes to leave you with a long lasting world class spa experience. And a part from the spa, there are water games facilities especially for kids. You can also indulge in other activities like riding on mountain biking trails, hiking along the available walking tracks, jet boating and so on.
2. Te Aroha Mineral Spas
Te Aroha Mineral Spas is the world's only hot soda water geyser. Located beneath Te Aroha Mountain, this world class natural hot spring has been a darling of the locals for over a hundred years who believed that immersing themselves there and tasting its waters gave them a natural healing. Today, the spring has been modernized and elevated to resort status for your unmatched pleasure and comfort. Te Aroha Mineral spas maintain the allure of the Edwardian era and are not far from a shopping centre and hotels.
3. Taupo Hot Springs Spa, Lake Taupo
Taupo Hot Springs Spa is a special hot spring in New Zealand since it's one of the few that specializes on fun for kids. Here you will find water facilities that are suitable for kids between the ages of 3 to 12. There is a well equipped warm water playground featuring water jets and a maze. Safety is never compromised here as evident from the rubber matting that makes the floor of the playground. And for the older kids and those who are not afraid of heights and speed, there are dragon slides that will pump your adrenaline to the max! But the hot spring is just not for kids, there are health spas too for adults at the same facility.
4. The Lost Spring
Coromandel Peninsula is a paradise of green vegetation, beautiful landscapes and above all, enthralling hot springs. Top of the list of such hot springs is the Lost Spring, a thermal resort located in Whitianga. Though Lost Spring has been modernized, its uniqueness lies on the fact that it still maintains its natural guise. There are numerous pools surrounded by the best of New Zealand flora. The pool's crystal clear waters originate from a source 600 meters below the earth surface. The day spa there provides a number of healing treatments that are natural and therapeutic.
5. Waikite Valley Thermal Pools.
Waikite Valley Thermal Pools is a complex that has taken relaxation seriously. Located halfway between Taupo and Rotorua, the complex features a splash pool, sit n soak pool, and a tranquil garden pool that was recently put up. There are also two private pools that are designed in such a way that you can control the water temperature by yourself! And if you would like to try camping for a night or two while you soak into the natural hot springs, there is a camp site nearby that can accommodate up to 20 tents.
If you are planning a trip to New Zealand with our New Zealand Tour Packages, don't just chase the landscape; soak into the warm hot springs and saunas that will leave you relaxed to your last nerve!