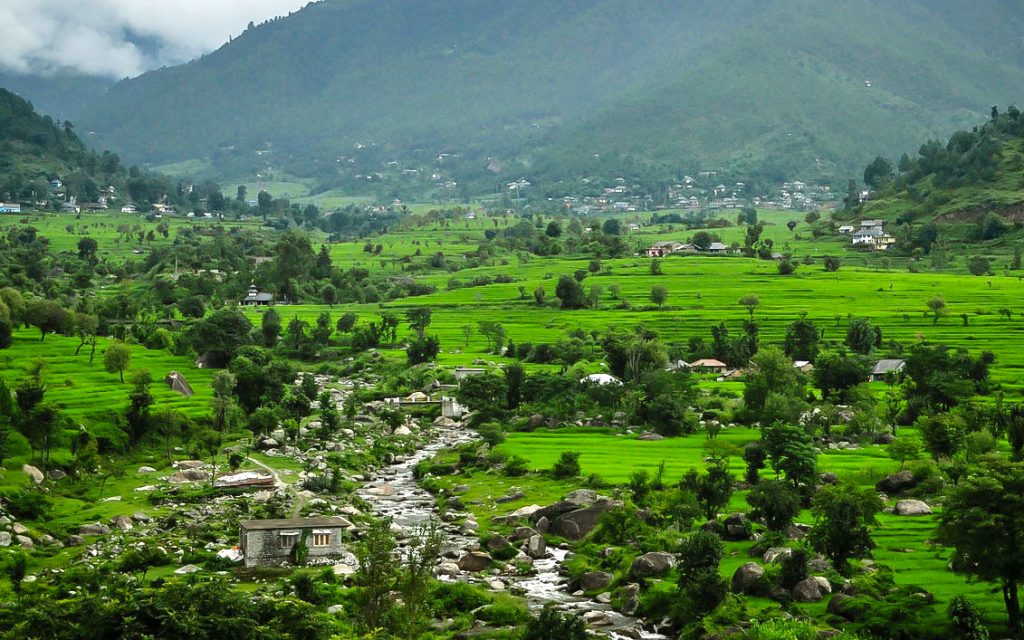 Himachal, the name itself signifies the area of snow, and when you look at the snowy peaks of the Himalayas, you would be in love with the majestic beauty. The state has so many beautiful places to boast of that when you are on a short trip; it would be difficult for you to decide which one to leave. Add to the natural beauty of the place, there are so many temples and monasteries also there, and as it was the favourite hilly spot during the colonial period, you can see a number of structures built in the architectural style of the colonial era.
Image Source – https://upload.wikimedia.org/wikipedia/commons/9/98/Tosh%2C_Himachal_Pradesh.jpg
Image Source – https://upload.wikimedia.org/wikipedia/commons/thumb/8/8e/Dharamshala_stadium%2Chimachal_pradesh.jpg/799px-Dharamshala_stadium%2Chimachal_pradesh.jpg
Spirituality thrives when the environment is conducive, and at Dharamshala, you will feel how true the maxim is. The name itself means spiritual abode and the presence of the Dalai Lama augments the spirituality quotient of the place. There are several tourist attractions to go for in Dharamshala, and manmade structures complement nature's creation in perfect harmony. It has the Dalai Lama temple, Bhagsunag temple, Aganjar Mahadev temple and Dharamshala Museum. The other must visit places in Dharamshala include Dal Lake, Naddi Point, Triund Trekking Point and Water Fall Point Bhagsunag. You must insist on including Dharamshala in your Himachal tour packages.
Image Source – https://upload.wikimedia.org/wikipedia/commons/2/2b/Dalhousie_View_l_HP.jpg
Dalhousie, one of the most visited places in Himachal, contributes about thirteen per cent of GDP of Himachal because of its popularity as a tourist destination. You would find such mesmerising beauty at Dalhousie that you would tend to admire Lord Dalhousie who popularised it as a hill station and the place is also named after him. While being in Dalhousie, you don't need to go to a particular place as just taking a stroll anywhere in the town would introduce you to such majestic beauty that you would want the time to stop there. The area near Alla in Dalhousie is just a potato field, and yet, it is among the most visited place there because of its splendid views. There is natural spring of Karlenu also that has believed to have therapeutic qualities. It is believed that the water from the spring healed Netaji Subhash Chandra Bose from tuberculosis.
Image Source – https://upload.wikimedia.org/wikipedia/commons/3/36/Dhauladhars_Eagles.JPG
Other must-visit places in the town include Daikund Peak, Bakrota Hills and Lohali Village. Your Himachal holiday packages are not complete without visiting Dalhousie. Another enchanting place close to Dalhousie is Khajjiar. Forest, lake and pastures come together to create this beautiful place, and many people refer to it as mini Switzerland, and when you visit the place, you will corroborate the view.
Himachal calls you with open arms to be close to hills, to be close to nature. It's time to pack your bags and head for Himachal. As for travel hassles, rely on SOTC, your trusted travel partner for decades.