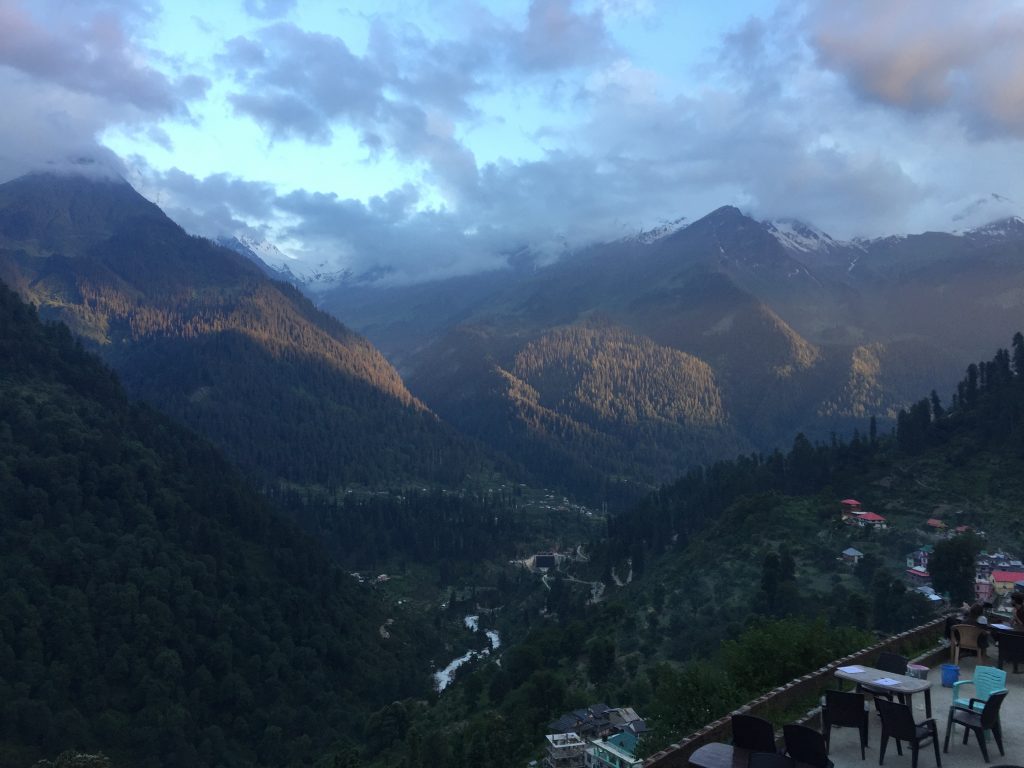 Below is the list of popular tourist places that you can visit in Himachal Pradesh with SOTC's Himachal packages.
MANALI
Image Source – https://upload.wikimedia.org/wikipedia/commons/7/72/Skiing_manali.jpg
If Himachal Pradesh is the crown of all hill stations in India, Manali must be considered as its Kohinoor. Nestled in the river valley of the Beas, it is the embodiment of nature in her pristine form. In old scriptures it is referred as the 'Valley of Gods' and when you look at the picturesque beauty you tend to say that gods choose the best for themselves.
Things To Do
Sit still, look at the surroundings; that's the best way to enjoy nature in her full glory in Manali. It is also one of the prime destinations for skiing in India and other adventure sports like paragliding, rafting and trekking. Even just roaming around the place is such joy that all the so called modern pleasures of life would take a back seat. Just take the road to Solang Valley; it's such a picturesque vista that you would never want the journey to get over. There are other places also to visit like Naggar Castle, Manu temple, Vashisth temple and several Tibetan monasteries.
When To Visit
Depends upon what you enjoy the most, you can visit Manali any time of the year. The end of December to January is the time when you can watch snowfall in Manali. The snowcapped mountains present such panoramic view that you would tend to think: Let time stop. If you want to get away from the scorching heat of the plains, you can opt for summer. During summer months the temperature hovers between 10 to 25 degree Celsius while in winter it can go down to minus 1degree Celsius.
How To Reach
Though the nearest airport Bhunter is just 50 kilometres away from Manali, it is better to rely on road network as weather can disrupt the flight schedules. Getting off at Chandigarh is a better option. Mountainous terrain come in the way of developing extensive rail network and it is almost non-existent in Himachal Pradesh. Chandigarh plays pivotal role in serving rail passengers. Luxury buses ply frequently to and from Manali and you can book it from New Delhi also which is about 550 kilometres away. Manali is well connected by road with other tourist destinations in Himachal Pradesh like Shimla, Dharmshala and Kullu.
SHIMLA
Image Source – https://upload.wikimedia.org/wikipedia/commons/f/f5/St._Michael%27s_Catholic_Church%2C_Shimla.JPG
The summer capital of India during raj era, Shimla figures prominently on the historic landscape of the nation. Its Victorian architecture, churches and temples remind you of the glory it has seen. Mall road, the prime hub of the town bustles with activity throughout the year and it would introduce you to the spirit of a mountain bazaar. The snow capped mountains staring at the town provide such pleasant view of the place that once you are there, it's hard not to think that you belong there.
Things To Do
Though it's pleasant weather and serene surroundings would make you forget all the manmade creations, Gaiety Theatre is something you must visit to see how human ingenuity complements nature. Nature has her own way of welcoming you and if you are in Shimla in winter, she adorns you with the soft snow while in summer the lush green deodar trees would bow on your arrival. There are many beautiful places to explore in and around Shimla and a few of them include Cheil, Chadwick Falls, Naldehra, Jakhu Temple, Green Vallley and Tanni Jubbar Lake.
When To Visit
Shimla is one of the hill stations frequented by tourists throughout the year. If you want to get away from the sweltering sun of the plains during summer, just head to Shimla. The weather is pleasant and the temperature remains 15 to 30 degree Celsius. Even during summer you need light woolen clothes. Though during rainy season regular a traveler avoids visiting Shimla, it is during this period that the hills are in their elements and adventurous souls love to visit the place during the period. Winters are something people wait for as the snow adorns the hills with the veneer of white and the soft snow is bound to make you exultant.
How To Reach
The hilly terrain prohibits the development of long airstrip for planes to fly and air connectivity to Shimla is almost non-existent, though it has an airport. Chandigarh is the nearest major airport and you can get flights for all corners of India from there. There is a narrow gauge train for Shimla from Kalka which is connected to all corners of India with extensive rail network. Chandigarh also serves as its railway gateway for other parts of India. Comfortable buses are there for Shimla from Chandigarh as well as from New Delhi.
DALHOUSIE
Image Source – https://upload.wikimedia.org/wikipedia/commons/1/14/A_View_of_himalayan_ranges_from_Dalhousie.jpg
The summer retreat of Lord Dalhousie, the place has come a long way since it was first established by the British Governor-General. Built around the five hills of Kathalagh, Terah, Bhangora, Potreyn and Bakrota, it presents such a beautiful vista of the Himalayas that you tend to admire the British for developing it as a hill resort. Snowcapped mountains surround it from all sides and the dullest soul can find a bout of exultation when he comes here. The place is also known for the water with healing properties. It is said that the water from Karelanu area healed Netaji Subhash Chandra Bose from tuberculosis.
Things To Do
When you are in scenic surroundings of Dalhousie with limited time, it's hard to decide what to go for first. Garam Sadak, as the name suggests is the place that gets direct sunlight and sometimes too hot to be tolerable. There is Daikund Peak, the trek to which would take you into another celestial world. Chamera Lake, though manmade, adds to the beauty of the place in such a way that you keep admiring the compatibility between human ingenuity and nature's bounties. There are other places to explore at the place including Ganji Pahari, Jandhri Ghat, Tibetan market and Kalatop forest.
When To Visit
It's you who decide when to visit the place as it has plenty of options to explore irrespective of the season. March to May is considered as the ideal time to visit the place as you can get away from the heat of the plains and the beautiful vista would welcome you with open arms. It doesn't rain much in Dalhousie, though it gets its fair share of rains and the season lasts from June to September. Winter opens a beautiful vista for the adventurous souls as watching snowfall there has its own charms. You need to be prepared with warm clothes during winter as temperature may go below zero sometimes.
How To Reach
The nearest commercially available airport is Gaggal in Kangra, about 140 kilometres away. It has flights for Delhi and Chandigarh connecting it to the plains. The nearest railway station is Chakki Bank at Pathankot, just 71 kilometres away. It is connected with all the major towns and cities of India. Luxury buses are there from New Delhi and you can see the scenic surroundings also while travelling.
Check out SOTC's Himachal tour packages to experience best of Himachal!