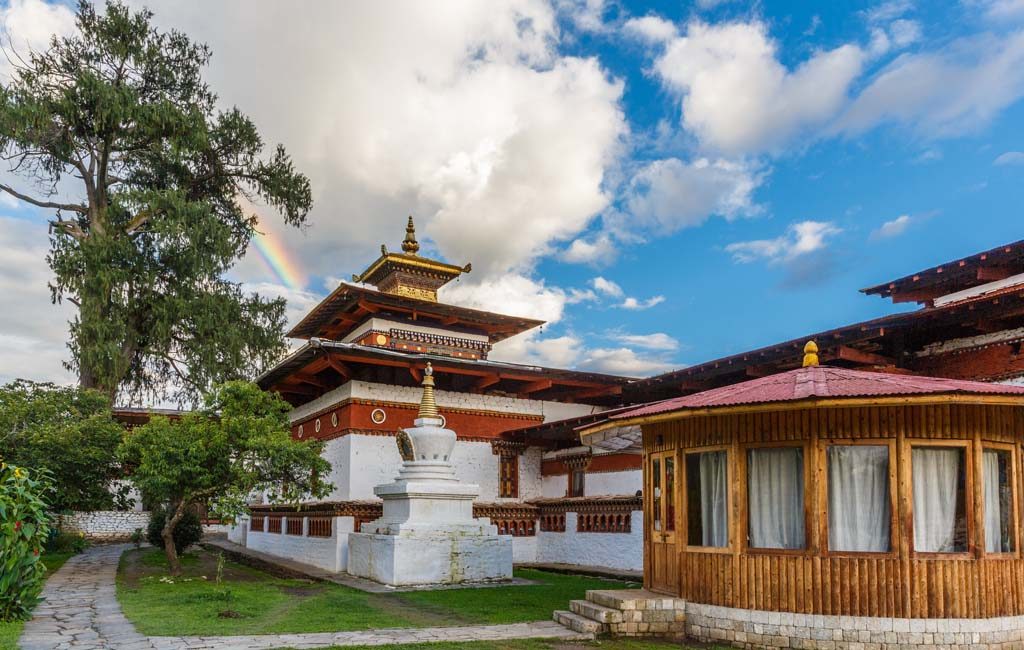 Bhutan is still considered as one of the less heard or travelled destinations by tourists and thus Bhutan tourism is not very popular among travel enthusiasts. But in reality this country has a lot to offer right from forts and monasteries to Buddhist relics and trekking spots. The country comprises of panoramic valleys and majestic Himalayas and many rare species of fauna and flora. There are many great places to visit and things to do in Bhutan for tourists.
Let's take a look below to know more about the tourists' spots in Bhutan and its magical wonders that you need to visit at least once:
Rinpung Dzong, Paro
This is a beautiful fort which was built in the 16th century and is surrounded by towering walls. It is amongst the best tourist places in Bhutan that showcases the Bhutanese traditions and architecture. Tourists can visit the beautiful temple here and take a look at the wall paintings depicting Buddhism.
Chele La Pass
It is located at an altitude of 3989 meters and offers a magnificent view of gushing waterfalls, panoramic valleys and alpine flowers. Tourists can visit this place via the Haa Valley in Paro.
Punakha Dzong
It is the second largest dzong in Bhutan that is widely known for its structure. The place is open from 8:00 am to 5:00 pm and speaks about the beautiful stories and traditions of Bhutan. The key attractions of this place include the sacred relics of the southern Drukpa Lineage of Kagyu school of Tibetan Buddhism, and the sacred remains of Ngawang Namgyal and the tertön Pema Lingpa.
Tiger's Nest
Also known as Taktsang Monastery, this place is quite popular amongst tourists. It is known for the amazingly built sacred monastery of guru Rinpoche. You can easily go on a trek at this place and enjoy the beautiful and mesmerizing view of the Paro valley. There are many small temples for tourists to visit here that are built inside the premises of this monastery.
Dochula Pass
Dochula Pass is a beautiful place to visit in Bhutan that is located more than ten thousand feet above sea level, as you travel from Punakha to Thimphu. It is one of the most famous locations for tourists in Bhutan. The place offers a mesmerizing view of the nearby snow laden mountains and a great view of the colourful flags wavering in the wind.
Buddha Dordenma Statue
The Buddha Dordenma Statue is a statue of Buddha that is 169 feet tall. Located at the foot hills of Thimphu, this iconic statue which is made of bronze and gold can be seen anywhere in Thimphu and is very popular in Bhutan. You can also visit the Kuensel Phodrang which is nature park located here.
These are some of the magical wonders of Bhutan which will be loved by any travel enthusiast. Include them in your Bhutan tour packages and make your visit to Bhutan a memorable one.