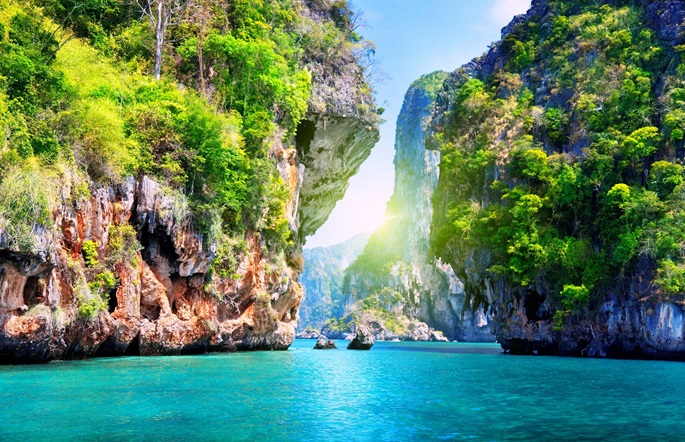 Yes it's true, Phuket is better known by the aspiring Thai tourists rather than Khao Lak. The vibrant never-sleeping Phuket offers the Old Phuket Town, Phang Nga Bay, The Big Buddha in Chalong, Wat Chalong and other temples, the famous Phi Phi islands, Thai Boxing on Patong beach and then the mixed reviewed Bangla road, Patong beach cabaret shows and FantaSea Show on Kamala beach.
Background
While first-timers in Thailand are inadvertently drawn to Phuket, it can be substituted by the comparatively more organic Khao Lak. Khao Lak is located about 80 km north of Phuket airport in the Phang Nga province facing the Andaman Sea, and literally means the Lak Mountain. The 2004 tsunami pounded the villages and beaches of this serene resort claiming about 4000 lives and 3000 people missing.
However since then, the place has been largely revived and now offers an all-smiles, soft and serene Thailand tourism experience.
Places to See in Khao Lak
To truly escape the bright lights, busy streets and hedonistic lifestyle of glamour cities such as Phuket, calm places like Khao Lak are ideal. It isn't much, except for a few restaurants, bars, shops and massage parlours but wait until you see the long stretched white sand beaches strewn about with palms and kissed by the brilliant turquoise water. But it doesn't mean that the modern resort pleasures are unavailable; the Le Meridian is a lavish spread on a stunning location offering tennis, spa, a muay Thai boxing ring, swimming pools, a range of dining and drinking options.
Expect cheery locals enquiring casually about your day. At the Thai Muang National Park Beach, participate in releasing the grown turtles back into the sea at the beginning of March. Visit the turtle conservatory there to learn more. Most Thailand tour packages will explore the two national parks, Khao Lak Lam Ru National Park and Thai Muang National Park for various wildlife and waterfalls. The Lam Ru and Ton Chong Fa waterfalls are some of the best ones that can be found in the prior. Many hot springs in these parks can be accessed as well for a small charge. The best way to go about exploring is on bikes or motorcycles.
There are also some interesting shipwreck dive-sites in Khao Lak that are now home to lionfish, eels, crabs and other marine life. The Ban Niang Night Market is just 20 minutes away from the beach functional on Wednesdays and Saturdays. The Khao Sok National Park is also an easy distance from Khao Lak and is a popular inclusion in Phuket tours as well. Kayaking around the Pha Nga Bay is another great activity to discover beautiful limestone karsts and caves, again just as accessible from Khao Lak as from Phuket.
Thus for a cultured Thai experience Khao Lak makes for a much better resort than the glitzy and busy Phuket.