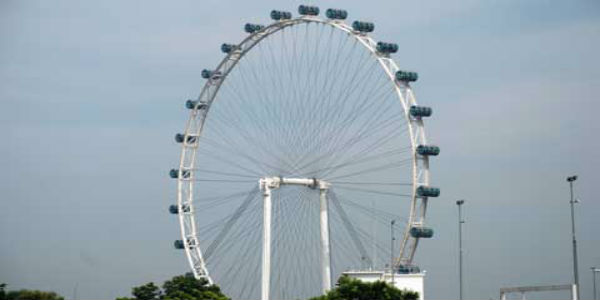 A Ferris wheel with a twist! That's how one can probably describe the Singapore Flyer, the world's largest Giant Observation Wheel. A ride on this one promises spectacular views of entire Singapore and even parts of its neighbouring countries. So huge is this wheel that it even surpasses the famous London Eye by whole 30 metres! It is little wonder that the Singapore Flyer is well on its way to get included as one of Asia's "must-see" attractions.
A dream design
Launched in April 2008, the Singapore Flyer is designed by acclaimed Japanese architect Kisho Kurokawa along with DP Architects. Its technical specifications are pretty over-whelming at 165 metres in height, with a diameter of about 150 metres! To top it all, the flyer is made up of 28 capsules, each the size of a bus! For a massive structure such as this one, it sure must have taken brilliant planning and long engineering hours.
A single revolution aboard this takes about 30 minutes to complete. Every care has been taken to ensure that the Flyer stands apart from other such iconic monuments. For instance, the capsules are fitted with a state-of-the-art cooling system and a UV protection shield. Also with precision wind engineering, tourists do not feel any movements or vibrations at all. Rest assured, one gets to enjoy a smooth and relaxed ride while enjoying the luminous skyline.
Interestingly, the Flyer rotated in a counter-clockwise direction when it began. However, within a couple of months, its direction was changed to move in a clockwise manner, under the advice of Feng Shui experts.
Location
Situated near the shore of Singapore's Marina Bay, on the South-East tip of the Marina Centre, there is a daily free shuttle service every half an hour between the City Hall MRT Station and the Singapore Flyer.
The views atop are mind-blowing and authorities claim that a radius of almost 45 km is covered. That means one can actually get to see the Changi Airport, Sentosa Island, the Indonesian islands of Batam and Bintan, and even parts of Malaysia!
The Singapore Flyer is absolutely unique in every aspect, as it is not just a regular giant wheel but its main terminal building that has the passenger loading area, also houses a shopping arcade, restaurants and lots more. The landscaping is beautifully done and a rainforest has been recreated near the terminal. Talk about complete entertainment!
Love to travel to Singapore? Browse through our all inclusive Singapore tour packages and make the most out of your Singapore holidays!