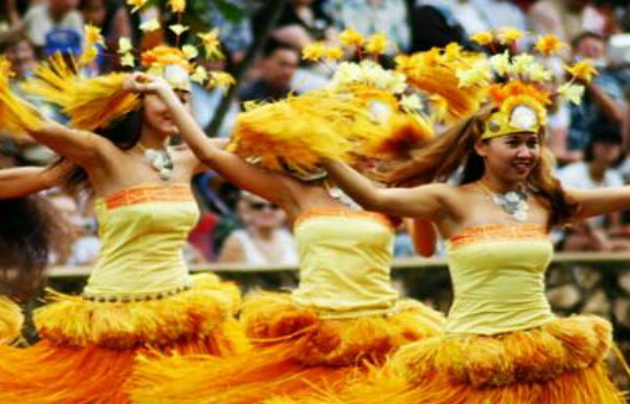 Watched Shakira shake her hips that don't lie, those cool moves that curve from side to side and hips that shake to every beat? At Letsgo, we let you experience the elegance of exotic dances from around the globe and the island getaways where you can catch them and let your hair down.
Expressing yourself is not only through words! Sometimes, you need something more. Well, that shouldn't stop you! 'The world is your stage'— travel into the wilderness to flaunt your dancing skills. Don't hold back your feet now! You'll feel guilty if you do so!
Tahitian Otea-Beautiful and inspiring
It takes two for a tango they say, but the Polynesian island of North America—Tahiti offers you its 'Tahitian Thumkas' that can drop you dead with a solo presentation. This native dance is performed with three main hip movements: Tamau (sway your hips from side to side), Fa'arapu(stir your hips in speedy circles) and Fa'arori(a fa'arapu is performed in the shape of figure eight). Moreover, the scenic beauty of the Pacific welcomes you with beaches, which make you go weak on your knees. You know you are amongst the Maohi's (the locals) when your eardrums receive some soothing drum beats. Their whole culture is woven into an intricate Tahitian dance piece as softness and power exudes from this dance. You cannot miss this! Plan a trip to Tahiti and experience their never ending hospitality too!
Hula-Happening Hawaii
Yes! You have it; Hula is the traditional dance of the distant Hawaii islands situated in the Pacific. Unlike popular perception, Hula is presented by both women and men. Hawaiian culture has such a great impact globally, thatan image of those bright floral prints, a headdress made of flowers, simple shorts, a garland and cool coconuts to beat the heat transports you to their beaches. While you are on the beach, you too can try the Hula-a dance that narrates a story. All the graceful hand and leg movements represent nature and its beauty, through which the dancer expresses himself/herself. Your work woes can take a back seat as you bask in the setting sun of Hawaii.
Samoa- Sensational moves
Do you love listening to rap? If yes, then you can draw similarities between Samoan dance and rap. It is the hip-hop of native dances. Though a traditional dance form, you will not find dancers clad in grass skirts or feathers, unlike the other two. Samoan dancers perform in an embroidered mattress like dress. Everyday life is enacted through 'Samoa'. If you want to sizzle in their dance-fire routine, well you can! These fiery islands encompass the South Pacific Ocean, but the locals there are as polite-natured as a sugar fairy. All you need is to go with a mood of enjoyment and the rest is taken care of.
Haka-A power cry
Haka dance is a cultural dance of New Zealand. It is a war cry and you showcase strength and grit. Nationalism is a major theme for the Maoris', when they perform Haka. So if you are a sport aficionado, New Zealand's rugby team performs Haka as a warm-up before they begin playing. Well, you can enjoy the lavish landscape of New Zealand if you are not a heavy-duty game person. Along with fierce dance movements, incessant chants and power display is what you witness while seeing a Haka dancer perform. Go unleash your anger and frustration, because your vacation is meant for the same.
Tinikling-Tickles your worries
Tinikling literally soothes your nerves as you laugh in merriment while dancing. It is nothing but a bamboo dance. Dancing with two sticks of bamboo sure does seem as easy as it sounds, but in reality you need to hop and skip in between those sticks to the beat of the drums and gongs playing. Philippine islands' national folkdance-tinikling strikes a chord with tourists every year. A pleasant getup and humming chants characterises this dance. And if you are not someone to shake a leg, you can surely massage them on the soft sand of their beaches. It's a package for your family.
So stop pondering and embark on this dance journey! You are guaranteed to have the 'time of your life'
Check out our International holiday packages to have fun around the globe!