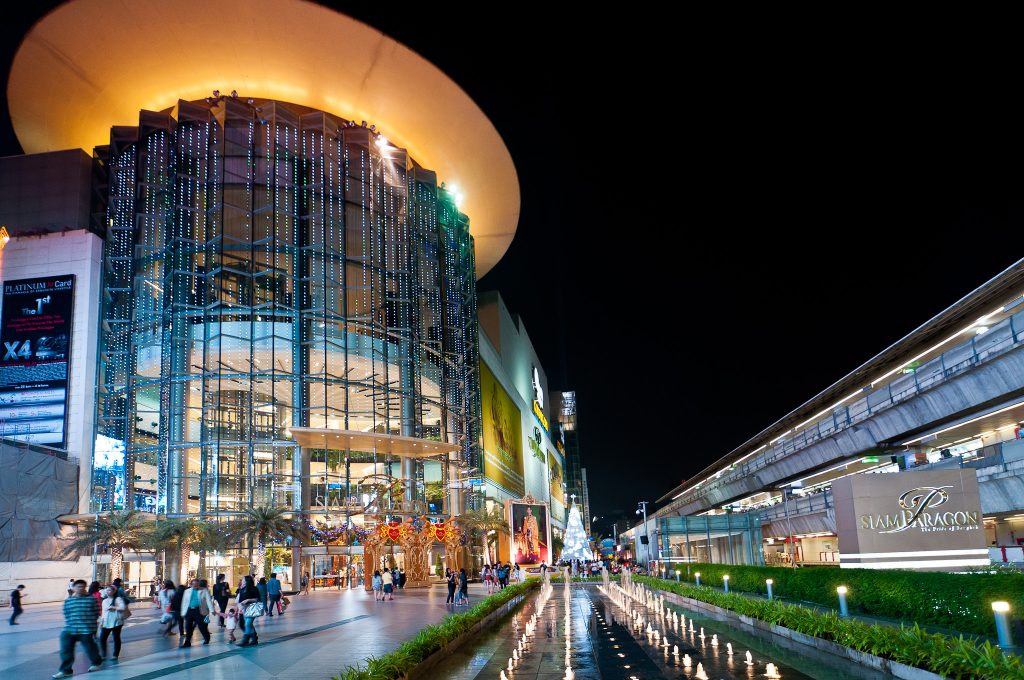 Sawasdee! The biggest and grand Bollywood night of IIFA (International Indian Film Academy Awards), was an awesome event overall! Taking place in Siam Niramit Theatre in Bangkok, Thailand, IIFA 2018 witnessed celebrities looking at their fashionable best. In short, it was a great treat for all the Bollywood lovers. This award show witnessed some memorable moments like the veteran actress, Rekha performing on her classic songs after twenty years to a tribute to beautiful late actress Sridevi. While the event or the award show took place in Bangkok, here are some must-see attractions that cannot be missed when on a visit to this beautiful city.
Image Source – https://upload.wikimedia.org/wikipedia/commons/8/87/Bangkok_at_night_01_%28MK%29.jpg
About Bangkok
You do not actually need any introduction when talking about Bangkok. Known popularly for ornate shrines and vibrant street life, Bangkok welcomes every tourist with open arms. Also known as the 'Venice of the East' and 'City of Angels', Bangkok promises you a fun-filled vacation be it with family, friends or loved ones. A perfect amalgamation of old and new, Bangkok is filled with colourful taxicabs, a jigsaw puzzle of towering skyscrapers and busy street. Come here to witness and experience its beauty with a wide range of activities, and must-visit attractions.
Here is a complete list of must-visit attractions you cannot miss!
The Grand Palace
Image Source – https://upload.wikimedia.org/wikipedia/commons/6/69/Grand_Palace_Chakri_Mahaprasad.jpg
While you are here in Bangkok, do make it a point to visit this grand and marvellous Grand Palace. This spectacular and dazzling Grand Palace is the city's famous landmark. Built in the year 1782, this palace was home to the Thai King, the administrative seat of government and the Royal Court for 150 years. A perfect combination of European and Thai architecture, Grand palace remains the spiritual heart of the Thai kingdom.
Wat Arun (Temple of Dawn)
Image Source – https://upload.wikimedia.org/wikipedia/commons/thumb/1/1b/0000140_-_Wat_Arun_Ratchawararam_005.jpg/1280px-0000140_-_Wat_Arun_Ratchawararam_005.jpg
Located on the Thonburi west bank of Chao Phraya River, Wat Arun is one of the famous landmarks in Bangkok. This glorious structure is one of the beautiful temples Bangkok has. What makes it a must-visit is its design and riverside location. This temple is partly made up of decorated spires and stands magnificently over the water.
Wat Pho (Temple of the Reclining Buddha)
Image Source – https://upload.wikimedia.org/wikipedia/commons/5/55/Wat_Pho%2C_Bangkok%2C_Tailandia%2C_2013-08-22%2C_DD_06.jpg
Popularly known as the Temple of the Reclining Buddha, Wat Pho is considered as the birthplace of traditional Thai massage. Located behind the Temple of Emerald Buddha, Wat Pho is famous for its giant reclining Buddha that measures 46 metres long. It is covered in gold leaf. You can go to this temple when you are visiting the famous Grand Palace as it is just 10-minute walking distance.
Baiyoke Sky Tower
Image Source – https://upload.wikimedia.org/wikipedia/commons/4/40/Baiyoke_Sky_Tower_in_Bangkok_%289421316845%29.jpg
Another must-visit tourist attraction in Bangkok includes Baiyoke Sky Tower. Being the tallest building in Thailand, Baiyoke Sky Tower is popular entertainment, shopping and eating hub. With a height of 309 metres, this 84-storeyed building has a skywalk with huge windows for a mesmerising viewing experience.
Suan Pakkad Palace Museum

Image Source – https://upload.wikimedia.org/wikipedia/commons/1/14/SUAN_PAKKAD_PALACE_MUSEUM_-_panoramio_%2810%29.jpg
Earlier the royal residence of Royal Highnesses Prince and Princess Chumbhot of Nagara Svarga, it is now converted into a museum. It is home to an extensive collection of artworks and antiques. Suan Pakkad Palace Museum is home to five traditional Thai houses where each of the houses boasts of an extensive collection of historical artefacts. The drawing you will see on the walls of the study hall tells the stories of Ramayana and Lord Buddha.
These are just some of the must-visit attractions. Besides, Bangkok is also home to other mesmerising attractions including Wat Mahathat, Siam Ocean World, The National Museum Bangkok and more. Make the most of your Bangkok tours with the Bangkok tour packages offered by SOTC. The packages are tailored and are perfect to witness the best of Bangkok!