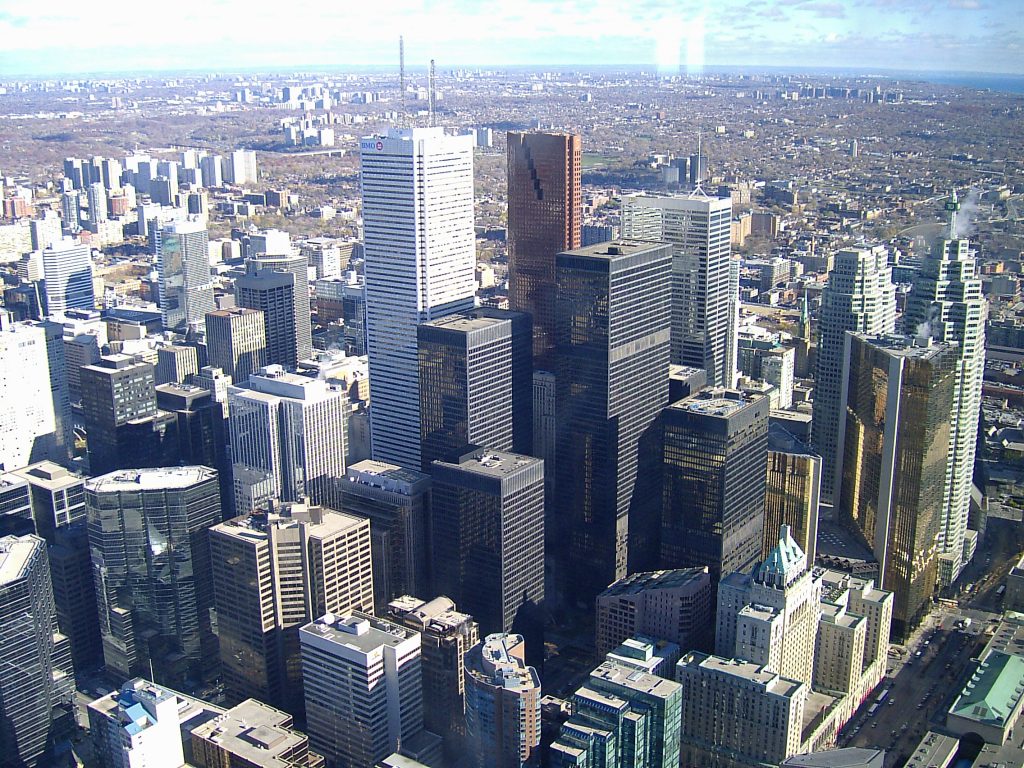 DC fans are all excited for the movie – Shazam! starring Zachary Levi as Captain Marvel, the titular superhero. This upcoming superhero movie is definitely unique for it has got some funny scenes. This clearly shows that DC is working its way to get away from the grim and dark image it has. The trailer has left every fan in awe for it is different and seems interesting. While you are all excited did you know, a majority of the production was shot at Pinewood Toronto Studio? Well, the principal photography of this movie was done in Toronto and Hamilton in Canada.
Image Source – https://upload.wikimedia.org/wikipedia/commons/4/4f/Toronto.Night.PNG
What comes to your mind when you think of Toronto? Well, it definitely has to be mesmerising attractions, pleasant weather and so on. Well, Toronto is more than what you have imagined. Being one of the world's culturally diverse city, Toronto promises you a tour that will be remembered for years to come. With an abundance of lakeside waterfront, beautiful green spaces, delicious global eats, and a lot of amazing things to do and experience. A complete Toronto travel guide is all you need to make your trip special:
Best Time to Visit Toronto
Toronto is a year-round destination and witness's tourists from all over. Be it early summer, fall or late spring, Toronto can be visited any time of the year. However, the best time to visit Toronto remains from June to September. The weather in these months is humid and warm. Besides, it is also the time for some major festivals and events such as the Caribbean Carnival, Pride Toronto, Toronto International Film Festival and Canadian National Exhibition.
Attractions One Should Not Miss While in Toronto!
Toronto is home to several mesmerizing and beautiful attractions that need to be on your bucket list. To simplify your whole traveling process, here are some attractions that should not be missed!
CN Tower
Image Source – https://www.publicdomainpictures.net/pictures/10000/velka/2185-1271348869IVD5.jpg
It is one of the must-visit landmarks and is visited by tourists from all over. Being one of the most prominent attraction, CN Tower is the tallest free-standing structure that offers panoramic views. What makes it a must-visit is the thrilling hands-free walk around the tower's outside ledge. This engineering marvel should make up to your list!
Ripley's Aquarium of Canada
Image Source -https://upload.wikimedia.org/wikipedia/commons/4/47/Ripley%27s_Aquarium_of_Canada%2C_Toronto%2C_Ontario.jpg
Another one coming to the list of the top attractions is Ripley's Aquarium of Canada. Located beautifully at the CN Tower's base, this famous aquarium is home to ancient giant lobsters, magnificent jellyfish, stingrays, sharks and different types of colourful fishes. You are bound to fall in love with these aquatic creatures.
Royal Ontario Museum
Image Source – https://upload.wikimedia.org/wikipedia/en/e/e9/Royal_Ontario_Museum_edit3.jpg
All the history buffs head to Royal Ontario Museum that houses world cultures and natural history. This renowned museum is home to over six million objects, has extensive galleries of archaeology and more. In short, when you visit this museum, history actually comes to life!
Toronto Islands
Image Source – https://upload.wikimedia.org/wikipedia/commons/8/85/Toronto_Islands_panorama.jpg
Be closer to nature by visiting the Toronto Islands. A scenic ferry ride to the Toronto Islands is all you need to come closer to nature. It also offers mesmerising views of the city skyline.
Casa Loma
Image Source – https://upload.wikimedia.org/wikipedia/commons/3/3a/Casa_Loma.JPG
You are bound to fall in love with this majestic castle that features elegant and post rooms, sweeping staircases, secret passageways, lush green gardens and so on. Known as 'Hill House' in Spanish, this castle attracts a large number of tourists from all over.
Toronto is not short of attractions, and you can make the most of your trip by visiting attractions such as the Toronto Eaton Centre, Distillery District, Art Gallery of Ontario, High Park and so on.
For people who are planning to travel to Toronto, SOTC is here to take care of your travel needs by offering amazing Toronto tour packages. Plan your Toronto tours with SOTC for a memorable experience!