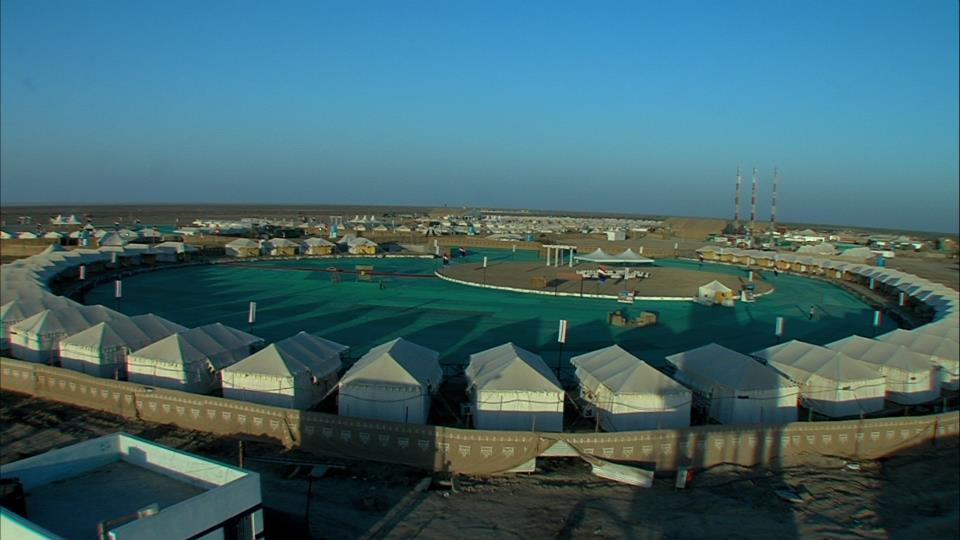 Dhordo – The tent city in Gujarat is the focus of everyone in winter as it brings with it the ecstatic Rann Utsav. This festival is a wholesome experience of handicrafts, art, culture, cuisine and adventure stretched across the white salts of the Rann of Kutch.
Image Source – https://upload.wikimedia.org/wikipedia/commons/9/9e/Rann_of_Kutch.jpg
Kutch in Gujarat is the gateway to the vast Thar Desert, of which the Rann – literally meaning salt marsh, is a vast patch of land. The salt gives the lovely white colour. Winter is the ideal time to soak the beauty of Rann of Kutch. The festival, organised by Gujarat Tourism, celebrates the artisanship, culture, fusion of art forms and the humble lifestyle of desert people while also clubbing it with a variety of comfortable accommodations and numerous activities like skyzilla, Paramotoring, ATV riding, community games like housie, chess, cricket, etc. Rann Utsav 2017-2018 is scheduled from November 1 to February 20
The Tent City
Image Source – http://www.rannutsav.com/images/zoom/127.jpg
The nearest airport and railway station is at Bhuj which is 85km away from Dhordo. The commute to this otherwise little village takes under two hours. During these four festive months, a temporary but the largest tent city in India is set up near Dhordo village about a kilometre away. Sprawling across 5,00,000km on the white salt, it takes over two months to set up the 400+ tents, dining halls, recreation areas, stages for live performances, exhibitions, stalls and gear for adventure activities. The tents are of various sizes and styles arranged in the form of incomplete circles making for a beautiful bird's eye view during aerial adventure sports.
Tourists can expect AC, non-AC living options in form tents, suites and cottages. A complete Kutchi cuisine menu is assured of waking up all those dormant taste buds. Shopping includes a range of handicrafts and souvenirs unique to this land and festival, which also add to the visual delight. Folk dancers and musicians can be expected at any time and area of the camp building the festival's ambiance. Moreover, performers across India are also invited for live shows. All this attracts a diverse population both domestic and foreign, uniting them in a celebration under the moon and stars.
Rann Utsav Packages
There are many Rann Utsav packages available that include everything from pickup and drop at Bhuj railway station or the airport, include all the meals, with accommodation of the traveler's choice and intermediaries listed below –
Camel rides
Visit to Bhujhaat (market)
Kutch Museum
Sri Swaminarayan temple
Kala Dungar (black mountain)
Gandhi nu gaam (handicrafts village)
The Lukshmi Vilas Palace Museum, Baroda
Maharaja Fateh Singh Museum, Baroda
The Dinosaur Museum, Balasinor
The Calico Museum of Textiles, Ahmedabad
Shreyas Museum on Folk Art, Ahmedabad
Gandhi Ashram, Ahmedabad
Akhsardham Temple, Ahmedabad
Adalaj Stepwell, Ahmedabad
The Vintage Car Collection Museum, Gondal
The Naulakha Palace Museum, Gondal
White Rann, Great Rann of Kutch
The Prag Mahal Palace, Bhuj, Kutch
The Aina Mahal Museum, Bhuj, Kutch
Dhordo – The tent city; tends to get booked out fast, given the popularity of the Rann Utsav. We recommend that one should book at least 45 days in advance to get their desired accommodation and itinerary within a reasonable budget.