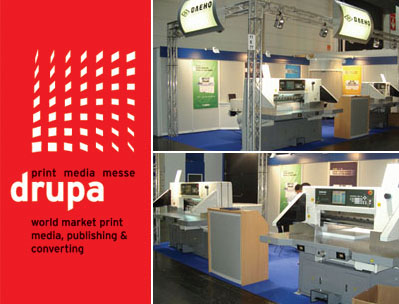 Dusseldorf, The capital of the federal state of North-Rhine Westphalia, was all geared up to host the world largest printing equipment exhibition, Drupa. From the 3rd to the 16th May 2012, all roads led to Dusseldorf for this mega event. And while thousands of foreign visitors were expected to attend, the city is ready to not only offer printing solutions, but great fashion and tourism treat as well.
Image Source – http://www.pressideas.com/wp-content/uploads/2016/06/drupa16_BL18013.jpg
Drupa's range is impressive; featuring both traditional and pioneering technologies for pre-press and pre-media. The keyword will be printing, and among other features will be paper converting services including packaging production. Read on to know more.
Drupa Trade Fair, 2012 more than you can imagine!
Image Source – https://www.schmidhuber.de/sites/default/files/field/img_full/h-2012-heidelberg_710.jpg
Germans gave to Europe the first movable type printing press through the genius of Johannes Gutenberg in 1439. Since then, Germany has been the leader in designing and manufacturing of the world's best printing machines, materials and accessories. Their prowess has been showcased in Drupa, a print media trade fair that was first held in 1951. The fair is held every four years.
The year 2012, Drupa promised a lot more, and the world was surely going to witness a bigger event than the one held in 2008. The year 202, witnessed approximately 1,850 exhibitors from more than 53 countries. Thousands of visitors were expected to descend at Dusseldorf for the event, who will hail from these fields: Manufacturing, marketing, advertising and public relations, services, publishing and media industry, subcontractors among others.
The massive venue for Drupa houses 19 halls where the nearly 2000 exhibitors showcase their printing diversity and innovation strength of their trade. The latest printing innovations will be demonstrated during the thirteen days event.
Themes showcased at Drupa 2012
Drupa was divided into six major thematic sections, namely:
Print (machines – equipment – accessories)
Pre-press and media (systems – equipment – software)
Paper processing, packaging material production (machines – equipment – accessories)
Bookbinding, print processing (machines – equipment – accessories)
Materials, consumption goods (including printing links – printing materials)
Services
Special Highlight at Drupa 2012 You Might have Missed include:
Image Source – https://www.jetro.go.jp/j-messe/img/user/3/34309/112062002.jpg
There was a lot to see and talk about during the thirteen days mega event. But what is for sure is that the world witnessed was cutting-edge printing technology exhibited at Drupa. The best place to get the best of that is at the Drupa Innovation Park (DIP). DIP was at Hall 7.0 and among key innovative products exhibited will be lenticular, 3D printing, electronic printing, augmented reality, tablet PCs and smartphones.
Another place you should never miss while at Drupa is the "Media Mundo@drupa" which will be located at Hall 9.0, Stand E55. There was also a special show that focused on sustainability in media production. Here, people got to listen and watch presentations from the top which is who in the industry and visit stands of top-notch companies from around the world.
There was also the 58th Type Directors Club of New York (TDC) show. This is the world's biggest font competition. Font artists from all over the world presented their products and winners of the current competition were awarded.
Drupacity: a city transformed to pleasantness
Drupa has transformed Dusseldorf into drupacity, a city that brings together various service providers in the hospitality business, culture, arts etc. into making it a pleasant haven for its visitors. To start with, travel and accommodation made really easy at drupa. The airport in Dusseldorf is just 3km away from the venue, and there are taxis especially assigned to pick and drop visitor from the airport to their hotels and the venue. Those travelling by train from various cities in Europe will also not face difficulties here as there are fast trains from various cities to Dusseldorf.
There are many hotels around the venue for the comfort of the visitors. Some of the best hotels around drupa are Hotel Schnellenburg am Rhein, Hotel Carlton Mayfair, Hotel Ashleys Garden among others. These named hotels are all under a kilometre from the venue which means you don't need to hire a taxi to reach drupa!
Dusseldorf has been hosting drupa for 60 years now. If there were mistakes made, the city has learnt from them. Today, Dusseldorf offers the greatest level of service to its visitors, offering the best of food and sightseeing experiences. If you plan to attend Drupa this year, pack your bags and fly with a smile, you will not be disappointed.
Explore Europe the way you desire through our tailor-made Europe Tour Packages that offer finest holidays to Europe which will leave you spellbound for a long time.