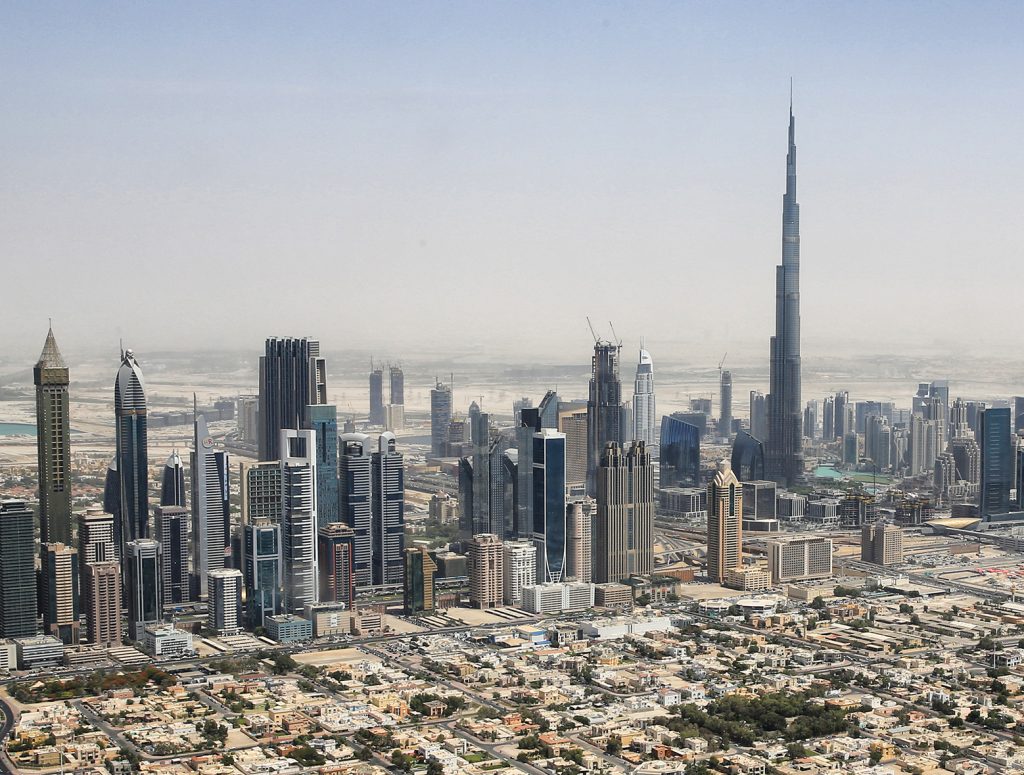 Dubai, one of the most happening cities in the world, is the perfect example what human ingenuity can achieve when it puts all its effort in developing a place. Now people flock to the place for everything; be it for shopping or leisure. Dubai boasts of some of the biggest man-made structures in the world; be it hotels or shopping malls and all of them present a world of wonders in themselves. Though the veneer of modernity is perceptible everywhere, if you explore it fully you would realize that it has not cut itself away from its cultural past and those things can still be enjoyed.
Image Source – https://upload.wikimedia.org/wikipedia/commons/8/81/Panoramic_of_Dubai_-_Nov_2009.JPG
Burj Khalifa, the tallest building on earth, presents such a stunning view of the city that your admiration for those responsible for its development grows significantly. The observation deck showcases multimedia presentation before actually showing the panorama and such enlightening presentations would give you a new perspective to the development of a city. The hotel Burj-Al-Arab is another beauty that would mesmerize you with its architectural style. The coloured lighting show at the hotel presents the outlines of the hotel in a beautiful way. Al-Mahara restaurant at the hotel is another architectural marvel that you should think of including in your Dubai tour packages. For your smooth journey to Dubai, SOTC is there to be your aid with exclusive Dubai Tour Packages. You can avail jet skiing facilities at the beach as well as can enjoy sun lounging. There are various restaurants also alongside the beach and you can explore them.
Image Source – https://upload.wikimedia.org/wikipedia/commons/thumb/0/0c/Dubai_mall_indoor.JPG/1280px-Dubai_mall_indoor.JPG
Dubai Mall is one of the places that attract a lot of tourists towards itself and when you visit the place the reasons would become obvious to you. It has ice skating rink, gaming zone and also the entrance to Dubai Aquarium. The aquarium houses more than 140 species of marine beings and there are activities for adventurous souls also. Shark diving and cage snorkeling are among the most popular adventurous activities in the aquarium. When you are in Dubai you must visit Sheikh Zayed Road as it is the perfect showcase of what Dubai stands for. Towering chrome and steel buildings adorn the street and it also has Dubai World Trade Tower. A visit to Bastakia will introduce you to the traditional life of Dubai and you must include this place in your Dubai holiday packages. The area was home to Persian merchants who used to deal in pearls and textiles.
When such a modern megacity is so close to India, you must make effort to explore it in its entirety and give a treat to your senses. For your smooth journey to Dubai, SOTC is there to be your aid.