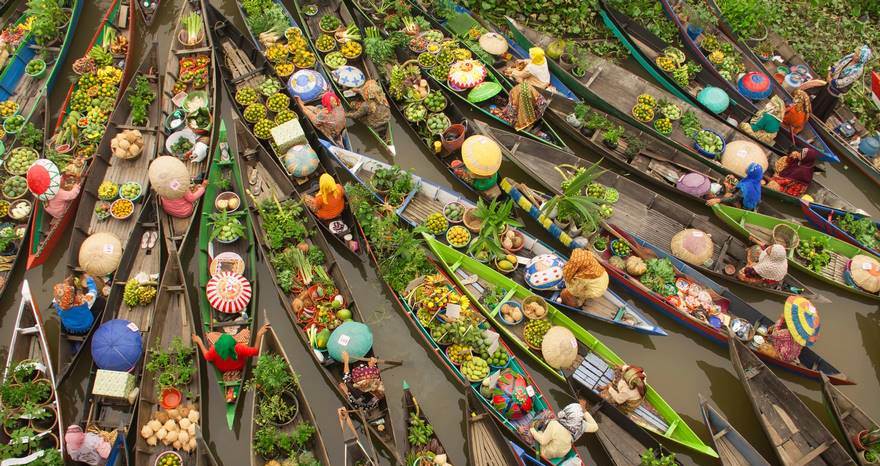 Often, we imagine eating whilst walking down some street food or sitting down at a find dining restaurant. But how often do we imagine eating on a floating food court? Not that often now do we.
Allow us to tell you about this hidden gem of a market known as the floating street food market, also known as the Kelantan floating market.
Tucked in a serene, beautiful village of Pulau Suri among some estuary islands of Malaysia, floating market concept has been a long living heritage in the culture and traditions of Malaysia. The entire market is run by women entrepreneurs cooking and selling an assortment of scrumptious food i.e main courses and snacks, on boats in the riverbank of Kelantan river. A market so unique in its concept, this is that dream food place where foodies can gobble down some of Malaysia's best and delicious street food while soaking in the town's scenic atmosphere.
While the atmosphere is something that will make hungry, the menu, is ordinary and yet worth every penny and patience of your time. Among the few dishes that you must chow down on are:
Nasi Kerabu
A Kelantan specialty, this is a unique rice dish made of blue-coloured rice served with fried chicken or fish, pickles and salad made from wild pal flowers. Need we say more?
Laksam
An iconic Kelantan local cuisine, this creamy fish recipe with white gravy made from coconut milk is common and in demand food, in town.
Nasi Tumpang
Considered as a staple food for travelers and localities, this scrumptious rice dish is layered with a variety of other dishes like omelet, shrimp curry, chicken, and meat floss, and is served in a banana leaf shaped into a cone, like an ice cream.
While street food is the obvious choice every traveler should lean upon, one can also simply purchase snacks and spend some quality time by the river soaking in the beauty of the hustle bustle of the floating street food market.
So, what we are saying is, if your hunger map ranges from travel to the unexplored to eating the unknown, then you need to hunt down and experience Kelantan's hidden food treasure. They are affordable, delicious and they will offer you that rustic taste Kelantan is especially known for.
Market open – Friday & Saturday
Time – 9 am – 3 pm
Plan your Malaysia package with SOTC Holidays to enjoy the best of Malaysia tourism. Know more about crazy places to visit in Malaysia with us!