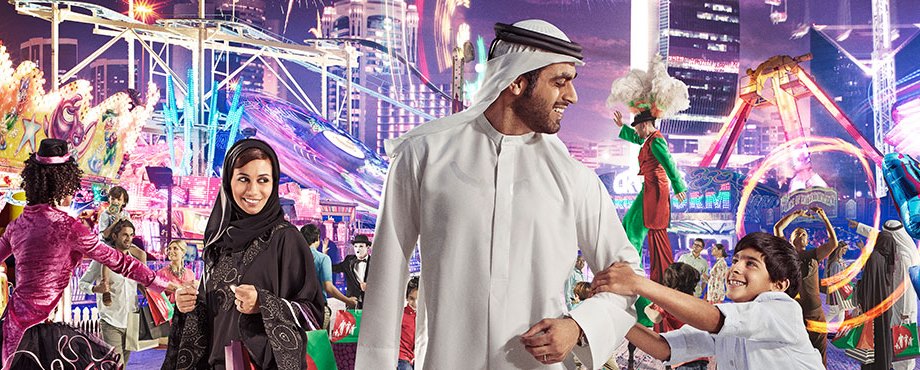 The Dubai Shopping Festival (DSF) is one of the biggest shopping festivals of the world even making it to the Guinness Book of World Records for making the longest handmade gold chain. This year is going to be its longest edition from 26th December 2017 to 28th January 2018 celebrated across all major malls, promenades and exhibition centres, thus giving Dubai Tourism a major boost.
Places to Visit
Global Village
Although far from the main city, Global Village is worth the trip as it brings together a specialty from every country under one roof for shoppers. It also hosts several performances, fireworks and children's shows.
Carpet and Arts Oasis
As the name suggests, this features a huge and diverse exhibition as well as sale of Persian, Oriental and handmade carpets and rugs from popular carpet-making countries of the world. 
Mirdif Mall
Adventurous people can experience world's first double vertical wind tunnel called the iFLY for a safe but equally thrilling skydive.
Ibn Battuta Mall
Based on the traveller's journey to six exotic lands, the mall is divided in six sections themed India, Tunisia, Andalusia, Egypt, Persia and China, each containing 250+ shops.
Gold Souk
Whether you wish to shop for gold or not, the Gold Souk in Deira is a must-visit for the sheer sight of the amount and quality of gold jewellery.
Dubai Tour Packages on customisation can include interesting places like the DSF Desert Camp, Al Fahidi, Al Seef Street, the Promenade, Al Rigga Street, Night Souk, Perfume Souk, Mall of the Emirates, Asianet Film Awards, Lamcy Plaza, Dragon Mart, Lulu Village, the Layali Dubai concert, etc.
Shopping and Other Things to Do
Get tax-free access to the top designer brands like Burberry, Prada, Armani, Bvlgari, Chanel, De Beers, Gucci, Versace, etc. in apparel, cosmetics and high-end leather products. Tourists can scout for discount deals as there will be plenty going around for specific periods across a certain product type, going as high as 75% even in the luxury categories like watches, electronics and home decor. The extravagant spread in gold jewellery and perfumes at DSF is not to be missed.
There are many activities for children as well, such as the dolphin show, cartoon shows, circus, meeting characters from Pokémon, Casper and Tarzan, and so on. Many sports such as Open Tennis Championship, Ice Hockey, Hockey on Synthetic Surface, Football, Russian Ballet on Ice and Skating are available for participation. After a busy shopping day, settle down with international cuisines or attend live cooking counters and similar interactive events surrounding gourmet food.
A pro-tip would be to research which places to go to for the items you need and start your day early, as a lot of tourists are drawn in during this festival. Always keep a little room for the not-so-needed items but which are available at jaw-dropping discounts to make the best out of DSF.