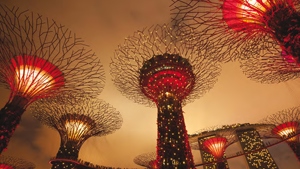 It's the end of your vacation and you're heading home, the awesome memories of Singapore are still fresh in your mind. Now you think the boring part is to spend countless hours in the airport waiting for your flight. You pick a spot in an isolated area of the airport and try to while away your time listening to music. But Singapore is not done with you yet, the airport has much more to offer, Changi Airport is the Disneyland for travelers, probably the only airport where you don't mind staying for a longer duration. Here are the reasons –
The Butterfly Garden
An interesting place to explore in the Changi airport is the Butterfly Garden. A visit to this place is completely free and you can watch over 500 butterflies and easily while away an hour just admiring those colorful creatures. This farm is located at Terminal 3 and is a haven for lepidopterists and nature lovers alike!
Free internet terminals and the Social Tree
Never ever get bored at Changi airport as there are internet terminals spread all over the airport. Spring right into technology and check your social media accounts. Become a part of Changi airport's history with the new and innovative social tree! 9 meters tall and 11 meters in diameter, the tree is a combination of 8 touch screen photo booths and a giant structure in the center that consists of 64 42" HD TVs. The tree allows the travelers to use the photo booth and upload their vacation photos and videos on the tree. The media tree will preserve the photos up to 100 years making you and your family a part of Changi airport forever.
Shopping
'Shop till you drop' is a phrase that is quite literal at Changi airport. You may run out of breath but not out of shops and the best part, they are duty free! So all the shopaholics can rejoice one last time while leaving Singapore.
The Sunflower Garden
The Sunflower garden located in Terminal 2 has over 500 bright yellow flowers and in the surrounding area, you can view airplanes taking off. Gaze upon the beauty of Mother Nature and marvel at one of the greatest engineering feats in human history, all at once!
Eateries
Foodies can hog on the lip smacking cuisines Changi airport has to offer at its 3 terminals. There are over a hundred restaurants offering mouthwatering dishes – pan Asian, Italian, Continental, and much more!
So on your next visit to Singapore make sure you explore Changi airport and have the best time of your journey! Enjoy Singapore tours with SOTC's Singapore tour packages.