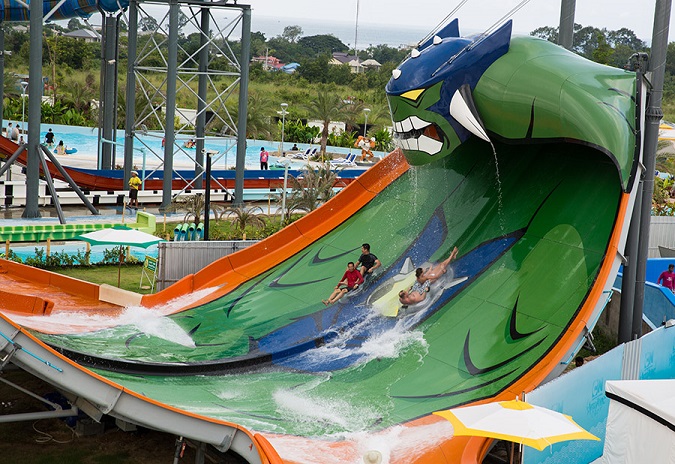 What is one thing that you are bound to enjoy regardless of your age? Having fun in the water! From babies to old people, there is hardly anyone, who does not love the soothing and refreshing feeling water provides. In order to benefit from the collective likeness of humanity towards the water, water parks are probably the most fun places to visit! It becomes all the more enjoyable when you are on holiday in a tropical country like Thailand. Mostly a warm nation, Thailand is full of enticing waterfalls where families can enjoy to the fullest. Check out this list of four best water parks in Thailand where fun and laughter just will not stop.
Image Source – https://upload.wikimedia.org/wikipedia/commons/d/db/RWP-Lazy_Wave_River.jpg
Ramayana Water Park
Image Source – https://upload.wikimedia.org/wikipedia/commons/1/11/RWP-Overview.jpg
Ramayana Water Park is the biggest water park in Thailand. It is simply fantastic. There are 50 rides here offering a wonderful blend of thrill and adventure. Apart from that, the location of the water park, which is set amidst scenic surroundings, is also noteworthy. This huge water park is sprawled across an area of 1,84,000 sq.m.
Fantasia Lagoon
Image Source – https://upload.wikimedia.org/wikipedia/commons/b/b1/Bangkapi_waterpark.jpg
Situated on top of The Mall Bangkae, Fantasia Lagoon is nowhere near as large as Ramayana, but it certainly has a fun quotient. Its location makes it a favourite among locals and the tourists. At this destination, you would get to shop, eat, play games, and above all enjoy in a water park! This water park in Bangkok is also preferable since the tourist crowd here is smaller than the rest.
Cartoon Network Amazone Waterpark
Image Source – https://upload.wikimedia.org/wikipedia/commons/b/b2/624A4248.jpg
This extremely popular water park has 30 state-of-the-art water slides. Not just that, it also has a huge food court, Disney themed mascots, and entertainment shows for your entire family to enjoy. With all these features, it is not surprising that Cartoon Network Amazone Waterpark is one of Thailand's best water parks.
Vana Nava Water Jungle
With 19 fun-filled water rides, Vana Nava Water Jungle is among the best water parks in the country. This waterfall's food court serves various delicacies. This place has shops where you can purchase souvenirs and gifts. This Thailand water park is an awesome place to spend a fun-filled day with family and friends.
Amusement parks & water parks in Bangkok and other areas of Thailand are truly extraordinary, and that is why your Thailand Packages must ensure a visit to at least one of these on your family trip to Thailand.