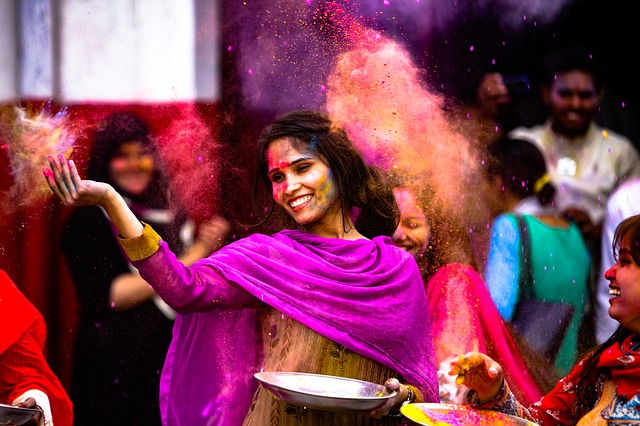 Holi celebration is in India is full of colours, zest and food. India is a country that glorifies her diverse culture. When it comes to Holi, every city here conveys a distinctive flavour created with a blend of local food, customs and traditions. Here are some cities in India known as the best places to celebrate Holi.

Mathura
Mathuravasi celebrates a vibrant Holi by conducting a legendary show on Krishna's life before a week. A parade marches from temples to river and then to infamous Holi gate, where people paint the sky with colours. Dwarkadhish Temple is a must-visit on Holi 2019.

Vrindavan
Vrindavan chapter of Lord Krishna's life is special as here he celebrated his youth with Gopikas and Radha. For other cities, Holi is a one-day festival; however, it's a week lasting celebration in Banke-Bihari Temple of Banaras. For a week, people play with colours, make new friends and devour local delicacies.

Banaras
Banarasi celebrates Holi in their own unique way- the Lath Mar Holi. According to the lore, young Krishna used to chase and tease Radha and her friends. As a response, Radha and friends used to threaten Krishna with help of sticks (Lath). In that memory, ladies of Mathura hit men who use a shield as protection. The whole celebration takes place at the Ladliji Temple- the temple dedicated to beloved Radha Rani.

Hampi
Hampi is a small city located in the southern Indian state Karnataka. In recent years, the city is gaining a reputation as one of the best places to celebrate Holi due to their carnival which lasts for two days. On the full moon of Phalgun, people gather on the tunes of cheerful music to play Holi with Vibrant colours followed by a pleasant dip in the river.

Goa
Holi is celebrated in the party capital of India under the name of Shigmostav. The celebration starts with prayers to local gods. The festival is highlighted in Panjim, Vasco and Margao. Goan people organise parades for five days during Shigmostav having performances by local artists and cultural dramas. All the beaches of Goa become colourful during Holi. On the fifth day, people take Gulal and paint the town red!

Manipur
Holi becomes Yaoshang Festival when she enters in the northeastern state of India Manipur. The celebration lasts for 5-6 days, where local boys and girls come to perform their folk dance Thabal Chongba dance. It is Manipuri folk dance meaning 'Moon Light Dance', which is performed during the night on the beats of Dhol (Drum). Manipuri colour themselves with the music and dance on their Holi.

Planning for Holi 2019, check out our India tour packages.