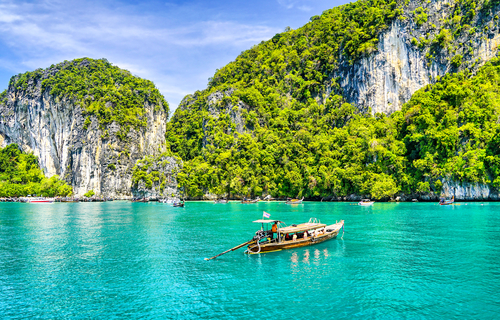 Planning to go on a Thailand trip? A holiday to Thailand can require a lot of planning. You have to consider from booking your flights, and hotels but the most difficult part is while selecting the places to visit in Thailand and finalising all the things to do. There are too many options in this beautiful country which offers an amazing travel experience for each and every traveler.
To save a lot of your time and effort here is everything you need to know about your visit to Thailand. Thailand is home to a number of beautiful attractions and experiences, and this is why it is a go to international holiday destination for tourists from all over the world. From a vibrant nightlife, to amusement parks and exotic beaches, Thailand has got it all.
Here are some experiences in Thailand you should not miss!
Wellness
If you have been to Thailand, you will know that this country is a synonym to wellness and health. Thai massages are loved and are famous all over the world. You can say it has become a major part of Thailand tourism. For tourists who want to relax and calm amidst natural and mesmerizing beauty, you should definitely go for Thai massages. This country is home to some ancient and traditional wellness methods. You will find a number of hotels offer various treatments such as sea therapy, traditional oil massage, herbal spa, mineral stone, hydrotherapy, and so on.
Authentic Thai Food

You might have eaten Thai food all around India, but nothing can beat the authentic taste of Thai food in Thailand. Rich in taste and spices, Thai food is the specialty here. Before you start with your tour, how about heading towards some of the popular eatery joints to tantalize your taste buds? Rice dishes, flavoursome cuisines, and exotic dishes all make Thailand food a must-try . Top dishes you should try here include Guay Teow (Noodle Soup), Som Tam (Spicy Green Papaya Salad), Pad Thai (Thai Style Fried Noodles), Khao Pad (Fried Rice), Panang (Thai Curry), Kai Jeow (Thai Omelette), Kao Niew Ma Muang (Mango and Sticky Rice) and more. Before you munch on the authentic Thai food, you should know about Merit Making where offering food to monks play a major role in the Thai lifestyle.
Experience Festivals
While your list of things to do in Thailand and places to visit in Thailand will be long, how about you take some time to experience its festivals? How about you find some Sanook meaning enjoyment and fun? When talking about Thailand festivals, ensure you are part of the Songkran Festival. This festival on the Thai calendar marks the New Year. It is celebrated in summer April 13 – April 15. There is also a Songkran Festival (water festival) which is similar to Holi where people throw flowers and water on each other. This joyous festival is celebrated in the month of April. This three day festival marks the beginning of Thai New Year.
Explore the Treasures
Every tourist is well aware of the fact that Thailand is home to some amazing attractions. It is a melting pot of different cultures. It is home to holy temples like Wat Arun, Wat Pho, Wat Benchamabophit and Wat Phra Kaeo. There is also the Grand Palace that speaks of elegance and royalty. Do not forget to visit the famous Phi Phi Islands that lets you relax under the sun whilst enjoying the cool breeze on sandy beaches.
Sun-kissed beaches
If you are someone who wants just to relax and enjoy the sun, then the beaches here in Thailand are the perfect option. Enjoy the sun, serenity, and calming waters of Thailand's beaches – it is one of the best things to do in Thailand. Sip a cocktail inside those roof huts whilst relaxing on the sandy beaches. Your list of things to do in Thailand should also include indulging in water activities and exploring the underwater world of the azure waters. Take your time to explore top beaches such as Railay Beach, Karon Beach, Phra Nang Beach, Kata Beach to Ko Lanta Yai and so on. These Thai beaches are just perfect for individuals looking for natural sanctuary and tranquillity. For party seekers, head to Phuket – the largest island in Thailand and undoubtedly the party capital of Thailand.
Best time to Visit Thailand

The best time to visit Thailand is from the months – November to February. The weather during this time is cool and pleasant. Months March to May are hot, and the temperature even soars to above 35 degree Celsius. It is, however, the best time to visit the beaches. Between June to October, Thailand experiences rains, and it is the best time to visit the major cities if you are traveling alone. Our Thailand tour packages are just what you need to ensure you explore this spot at the right time.
How to Reach Thailand
By Air – Air is a convenient and comfortable means to travel to Thailand. The major international airports here are Bangkok International Airport and Phuket International Airport.
By Road – No matter whether your start point is Singapore, Penang or Kuala Lumpur, if you are planning to drive, then you will reach places like – Phuket, Nakhon Si Thammarat, Krabi, Ko Samui, and Hat Yai.
By Water – Thailand is well-connected by water from Indonesia and Singapore. You can also take cruises from Europe, Hong Kong, and Australia to reach Bangkok and Phuket.
Thailand tourism packages by SOTC ensure you reach safely and comfortably, keeping in mind all your preferences. Browse through our large range of Thailand tour packages and let us help you have a memorable Thailand trip with your family, friends, or loved one.