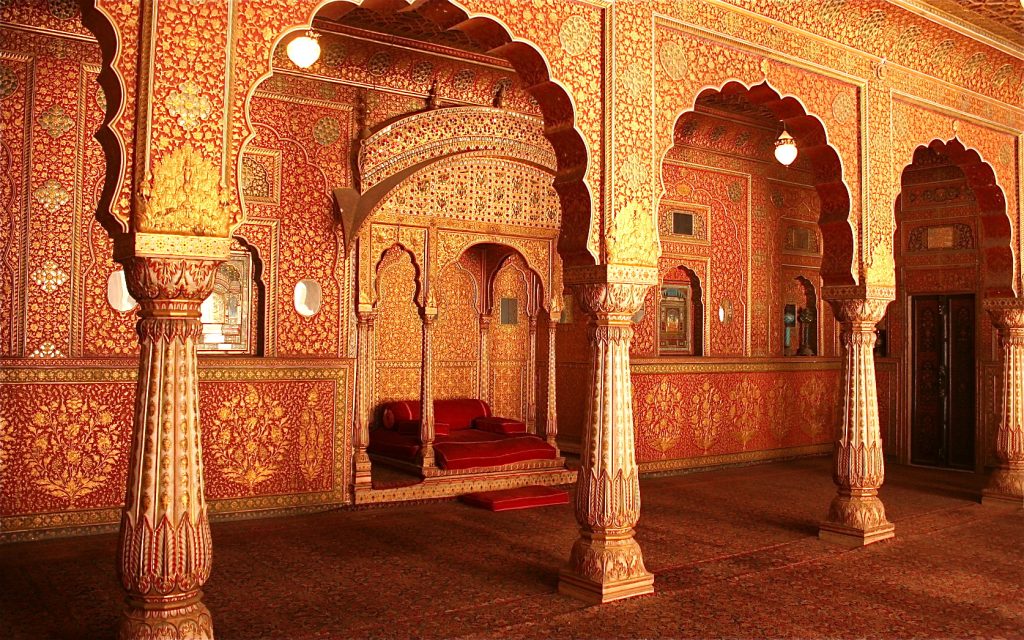 While watching the Arabian Nights, don't you ever wished you lived somewhere or could experience that atmosphere for real? Well, what if we tell you that you can and in Rajasthan for that matter, in the shape of Bikaner.
Bikaner is a vibrant, dust-swirling desert town with breath-taking fort and an energising outpost feel. It is comparatively less visited by tourists than many other Rajasthan cities, even though it has plenty of hotels and camel-safari offers, which attracts travellers looking to avoid the hustle and bustle of the other parts of Rajasthan.
So today, we will give you the ultimate guide to Bikaner.
JUNAGARH FORT
Image Source – https://upload.wikimedia.org/wikipedia/commons/e/e7/India_Bikaner_Junagarh_Fort.jpg
An impregnable bastion that holds the proud distinction of having never been captured. It was constructed in 1588 AD by Raja Rai Singh, one of Emperor Akbar's most distinguished generals. The fort complex houses some magnificent palaces constructed in red sandstone and marble and you can feast your eyes on an attractive courtyards, balconies and windows.
NATIONAL RESEARCH CENTRE ON CAMEL
Image Source – https://upload.wikimedia.org/wikipedia/commons/7/7e/Camels_at_Camel_Research_Farm%2C_Bikaner.jpg
The National Research Centre on Camel is 8 kilometres from the city. Here's a fun fact about this research centre. It's the only camel research and breeding centre in Asia.
Camel Festival
Image Source – https://upload.wikimedia.org/wikipedia/commons/2/29/%281%29_Pushkar_Fair%2C_Camel_Festival%2C_I_love_my_camel.jpg
One of the most famous festivals of Rajasthan, if you visit Rajasthan during December or January, you must be a part of The Bikaner Camel Festival, offering you the perfect chance to see the rural life of Rajasthan and mingle with the locals. Don't forget the delicacies they have to offer such as the kachodis, ghewar, dal baati etc.
GAJNER WILDLIFE SANCTUARY
Image Source – https://upload.wikimedia.org/wikipedia/commons/thumb/b/b3/Gajner_Wildlife_Sanctuary-EW-20131009.jpg/1280px-Gajner_Wildlife_Sanctuary-EW-20131009.jpg
Amidst lush green forest which is a haven to the nilgai, chinkara, black-buck, wild boar, flocks of imperial sand grouse and many other species of migratory birds that make the sprawling forest their winter home, is what you must experience when you Bikaner. A handy trip tip – visit during winters. Know more about interesting places to visit in Rajasthan with SOTC Holidays.
KATARIYASAR VILLAGE
If you want to explore something unique, visit Katariasar village. Its 45 kilometres from Bikaner on the Jaipur Road. Rich ethnic and rural cultural life, you can walk on sand dunes and view the sunset. However, it's the inhabitants, the Jasnathjis who really steal the show. They are also known as the fire dancers.
Excited? Plan your Bikaner trip with SOTC's Rajasthan tour packages and explore the best of Rajasthan tourism.