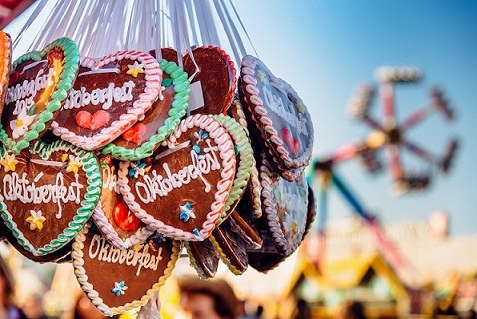 Beer lover? Then do make it a point to witness the biggest beer festival all set to happen in Munich, Germany on 21st September 2019. Oktoberfest is one of the famous festivals in Germany witnessed by people from all over. All set to happen on 22nd September, this largest beer festival of all things Bavarian. This is the time when you can expect an endless flow of pretzels, beer, and experience true Bavarian fun.
Here are some of the facts you might want to know about Oktoberfest:
Though the name is 'Oktoberfest,' the event takes place at the end of September.
Only Munich beer is served here at Oktoberfest.
Locals call Oktoberfest – Wiesn
It is 2014-year-old tradition and wasn't a beer festival. It marks the day to honor the marriage of Prince Ludwig and Therese of Saxe-Hildburghausen.
This largest festival has been canceled 24 times.
They offer vomit-proof sneakers for the festival Oktoberfest. With so much beer consumed, people are bound to feel sick and puke.
The mug is not raised until the Mayor says so. Since the year 1950, this festival has always started with the gun salute and the Mayor shouting – O'zapft is! Meaning It's tapped!
Traditional visitors wear Bavarian hats, also known as Tirolerhute. The more tufts of goat hair on the hat means the wealthier the person is.
In the year 1910, which was the 100th birthday, 120000 liters of beer, was poured.
The beer you get here in Oktoberfest is specially brewed, so a mug of beer is the same as 8 shots of Schnapps.
Apart from beer, there are also wine tents which serve 15 different types of wine. Apart from this, there is also sparkling wine and champagne in Weinzelt.

Experience Oktoberfest with SOTC's Oktoberfest tour packages that ensures that you experience this festival at its best.